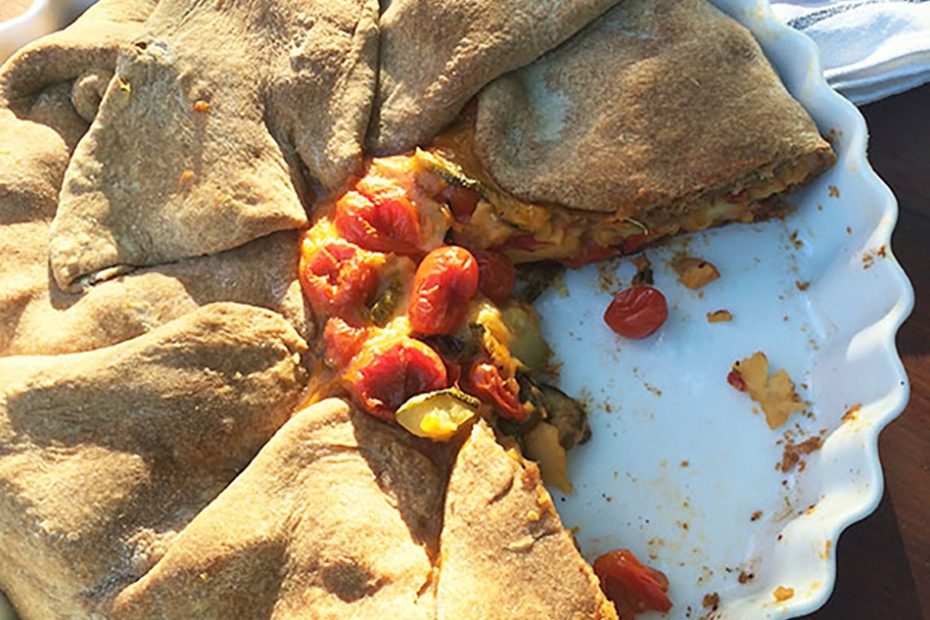 Cherry Tomato-Zucchini-Haloumi Pie with Whole Wheat Filo
---
This delicious savory pie is perfect for summer. To find some of the artisinal Greek products you'll need to make this, visit my online shop
here
, where you'll discover a host of lovingly curated Greek ingredients.
Ingredients
For the filo pastry
1 2/3

cups

whole wheat flour

1

cup

fine semolina flour

1

teaspoon

salt

2/3

cup

water

1/3

cup

Greek yogurt

1/3

cup

extra virgin Greek olive oil

2

teaspoons

red wine vinegar

¼ - ¾

cup

extra whole wheat or semolina flour as needed

For the filling

3

tablespoons

extra virgin Greek olive oil

4

scallions

with greens, trimmed and chopped

2

medium zucchini

trimmed and cut into 1/3-inch/ 1-cm cubes

3

garlic cloves

minced

3

cups

cherry or teardrop tomatoes

halved

5

oz

/ 150 g halloumi

diced

1/3

cup

all-purpose flour

1/3

cup

chopped fresh basil

¼

cup

chopped fresh mint

Olive oil for brushing pastry
Instructions
In the bowl of an electric mixer outfitted with a dough hook, combine the two flours and salt. Mix for a few seconds. Add the water, yogurt, olive oil and vinegar and mix at medium speed, adding additional whole wheat or semolina flour as needed to form a smooth dough that doesn't stick. Total kneading time is about 10 minutes. Remove, shape into a ball, place in an oiled bowl and cover with plastic wrap. Let the dough rest for at least 30 minutes.

Make the filling: Heat half the olive oil and sauté the scallions until wilted. Transfer to a mixing bowl. Heat the remaining olive oil and sauté the zucchini until lightly browned. Gently stir in the garlic. Transfer to the mixing bowl. Add the tomatoes and cook on high heat for about 6 – 8 minutes, shaking the skillet back and forth. Add the tomatoes to the mixing bowl. Set aside covered with a kitchen towel and let the filling cool completely.

When cool, season to taste with salt and pepper and mix in the diced halloumi, herbs and flour. Toss gently to combine.

Preheat the oven to 350F/170C. Lightly oil a 10- or 12-inch ceramic or ovenproof glass tart pan.

On a lightly floured surface, roll out the dough to a circle about 16 inches in diameter, large enough to fit inside a 10- or 12-inch tart pan with generous overhang. Place the filo inside the pan with the excess hanging amply over the edge.

Spread the filling evenly in the pan. Fold the excess filo over the surface of the filling, "pleating" it loosely as you go to form a decorative top. Brush with olive oil. Bake for 50 minutes to one hour, until the pastry is set and golden. Remove, cool and serve.
Love savory pies and phyllo specialties? Sign up for my online class "Fearless Phyllo – Homemade!" to learn the secrets of making great, easy pies at home! 
Love vegetables? Want to learn more great plant-based Mediterranean dishes? Enroll in my online  class "Baked Vegetable Classics!" 
Notes
You can make the filo ahead, seal it in a plastic bag and either chill or freeze for several days. Bring it down to room temperature before using.