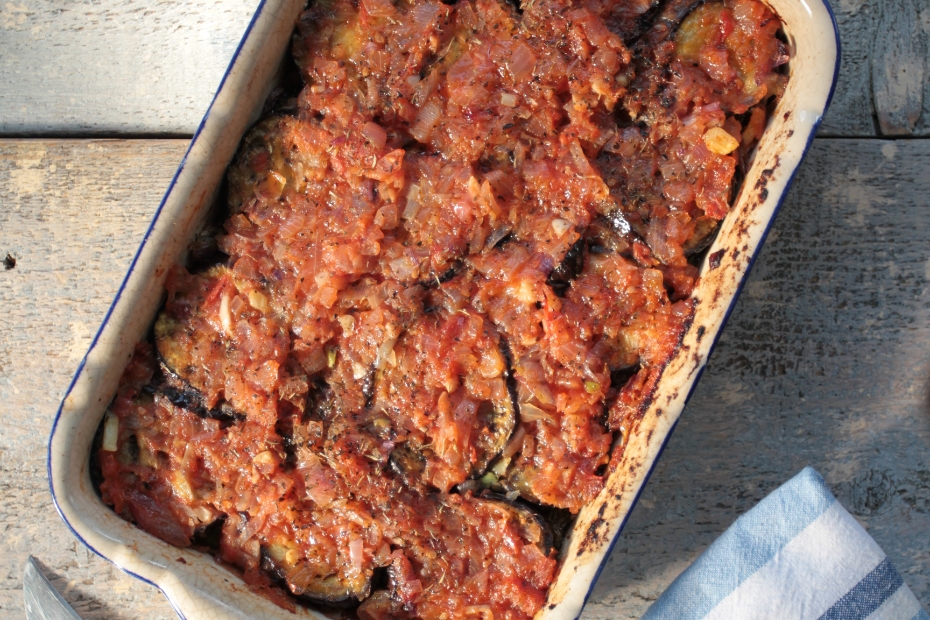 Ikarian Soufico
---
Soufico is one of my favorite summer dishes, and it comes from my family's native island, Ikaria. To make it the traditional way requires patience. You salt each of the vegetables individually and let it drain. Then you sauté each vegetable separately in olive oil, before layering them all together in a large stew pot, Dutch oven, or another heavy pot. People cheat by cooking everything together or by using a deep fryer, but the results pale in comparison to the real thing, a dish of layered, caramelized summer veggies melded together with a copious amount of olive oil, which you can find on my online store here.
When we owned a restaurant on the island, this was our best seller. The word soufico may have originated from the Italian sofocare, "to smother," as in smothered in all that olive oil! It may also have originated from a word in the local dialect "Sou Afica," which means "I left you some," as in this is so good, you always leave a little for whoever isn't home in time for dinner! Soufico goes exceptionally well with a slice of feta on the side.
Ingredients
Olive oil for frying or brushing

2

medium eggplants

cut into 1/4-in/6-mm-thick rounds

2

large green bell peppers/capsicums

seeded and cut into 1-inch/2.5 cm strips

4

medium zucchini

cut into 1/4-in/6-mm-thick rounds

3

large onions

finely chopped

3

garlic cloves

finely chopped

2

large potatoes

peeled and sliced into 1/4-in/6-mm-thick rounds

1/2

cup

extra-virgin Greek olive oil

Pepper

3

large

firm ripe tomatoes, grated
Instructions
In separate colanders, lightly salt the eggplant, peppers, and zucchini. Drain for 1 hour. Wipe dry without washing.

In a large frying pan, heat about 1/4 in/6 mm of olive oil over medium heat. Lightly cook the onions and garlic until wilted, about 6 to7 minutes. Remove with a slotted spoon and set aside on paper towels to drain.

Replenish the oil in the frying pan if necessary. Add the potato slices and sauté lightly until their edges begin to color. Lightly sauté all the remaining vegetables separately and set aside to drain on paper towels.

Alternatively, if you don't want to fry, you can preheat the oven to 350F/170C, oil several baking sheets and spread each group of vegetables on individual sheets, brushing them with additional olive oil. Bake for about 15 - 20 minutes, turning once, to soften and color very lightly.

Next, layer the vegetables in a clay or ovenproof glass casserole: Pour about 1/4 cup/60 ml of olive oil into a large, wide pot or Dutch oven. Spoon two tablespoons of the grated tomato and then two tablespoons of the onion-garlic mixture over the bottom. Strew a layer of potatoes and sprinkle with a little salt, pepper and dried oregano. Next, add a little more tomato, onion-garlic, and a layer of eggplant. Press down lightly with the back of a large serving spoon. Sprinkle with a little salt, pepper and dried oregano, then strew a few of the cooked peppers on top. Then, layer the zucchini, and more of the tomato and onion-garlic-salt-pepper-oregano. Press down. Repeat the layering and pressing down, finishing with a layer of eggplant and some tomato-onion-garlic. Drizzle 1/4 cup of olive oil over the top.

Bake at 350F/170C for about 45 minutes to one hour, or until the vegetables are very soft and lightly caramelized. Remove, cool slightly and serve.
Love vegetables? Want to learn more great plant-based Mediterranean dishes? Enroll in my online  class "Baked Vegetable Classics!" 
Notes
You can make soufico in exactly the same way as a stovetop casserole, cooking over very low heat for about an hour.
Adapted from The Country Cooking of Greece (Chronicle Books, 2012)