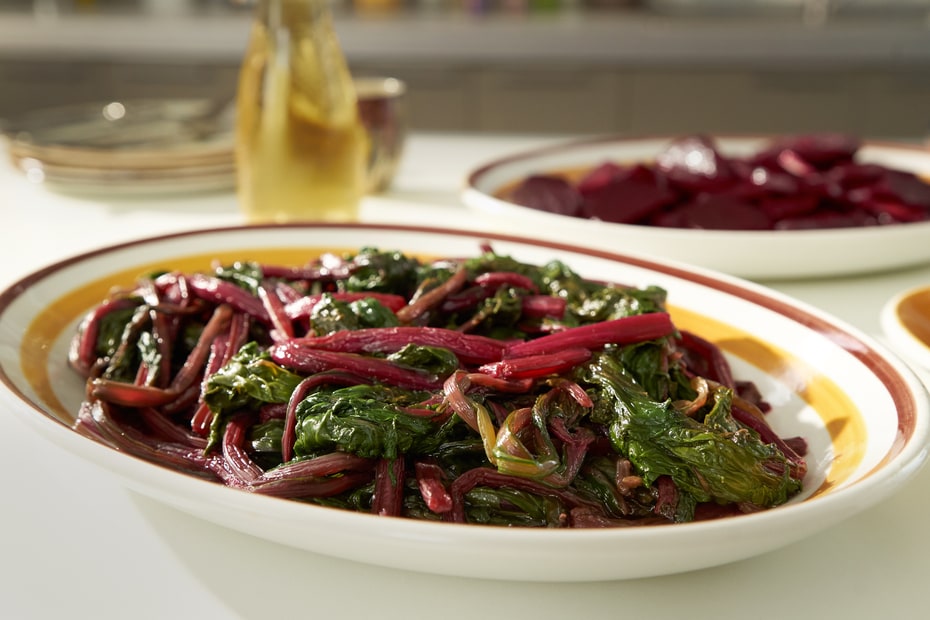 Beet Salad
---
Beet salad, patzarosalata in Greek, is an all-time favorite. Earthy beets pair beautifully with garlic and the acidity of good vinegar. You'll find this salad on tables everywhere, the perfect match to fish recipes like fried cod croquettes and retsina.
Instructions
Cut the greens off the beet roots and rinse very well in cold water, then leave to drain. Bring to a boil in a pot of salted water and simmer until tender, about 15 minutes. Remove and drain.

Scrub the beet roots very well and trim off the root and stem ends. Place in a pot of cold salted water and boil gently for about a half hour to 45 minutes, until tender. Alternatively, place the beets in a roasting pan, cover and roast at 400F/200C for about 1 hour, until tender. Let the beets cool slightly, to handle, then peel. Cut the beetroots into rounds about 1/8-inch thick.

Whisk together the 3 tablespoons of olive oil, 2 teaspoons vinegar or balsamic, garlic and salt. Toss the beetroot slices in the dressing and place in the center of a serving platter. Strew the greens around the beets and dress with additional olive oil, vinegar and salt. Serve warm or at room temperature.
Love vegetables? Want to learn more great plant-based Mediterranean dishes? Enroll in my online  class "Baked Vegetable Classics!"