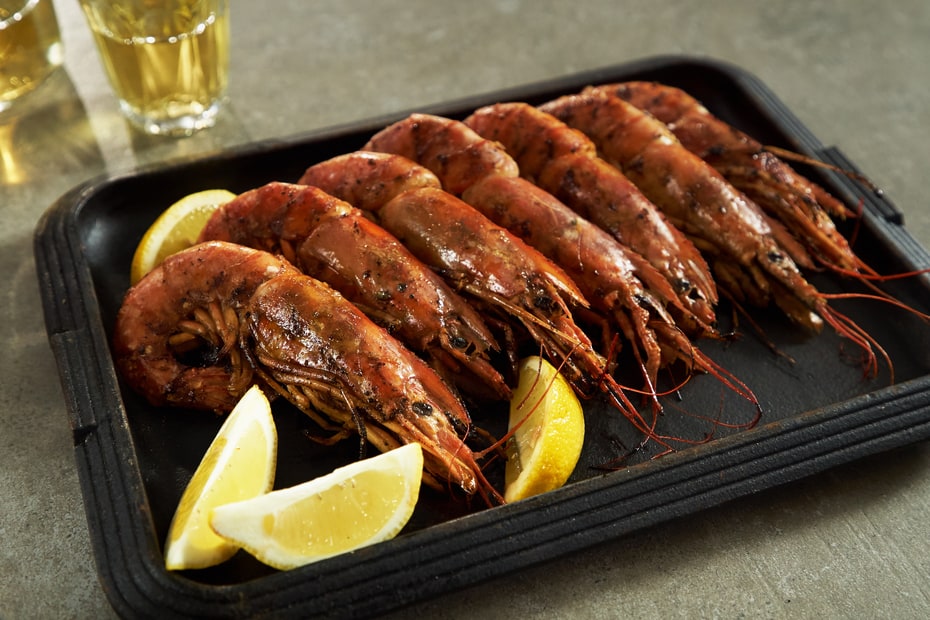 Shrimp with Retsina, Lemon, Pepper, and Coriander
---
Greece in the summer is about being outside, under a hot sun, near the water, sea salt spraying on the breeze and seafood sizzling nearby. The quaff of choice is often either a chilled glass of retsina or a glass of milky-white ouzo on ice, the perfect foil to smoky seafood.
Ingredients
2

pounds/900 g large shrimp

1

teaspoon

black peppercorns

½

teaspoon

coriander seeds

Grated zest of one lemon

1

garlic clove

minced

Salt to taste

1

cup

fresh strained lemon juice

½

cup

retsina
Instructions
Devein the shrimp but leave the shells and tails intact.

Using a mortar and pestle, crush the peppercorns, coriander seeds, lemon zest, garlic, and salt. Whisk or shake together the lemon juice, ouzo, and spice mixture. Place the shrimp in a stainless steel bowl, pour the marinade over them, toss well, cover and refrigerate for 30 minutes or up to three hours.

Heat a grill pan or preheat the broiler or grill.

If using a grill pan, brush lightly with olive oil and place the shrimp in the pan, using kitchen tongs to do so. Sear for about 4 minutes per side, turning carefully, until bright pink and tender. Remove and serve.

If using a broiler or barbecue, thread four shrimp each onto four 8-inch metal skewers. Thread the shrimp through at their thickest point, near the upper part of their body. Grill for about 4 minutes on each side, or until the shells turn bright red. Remove and serve, either on the skewers or off.