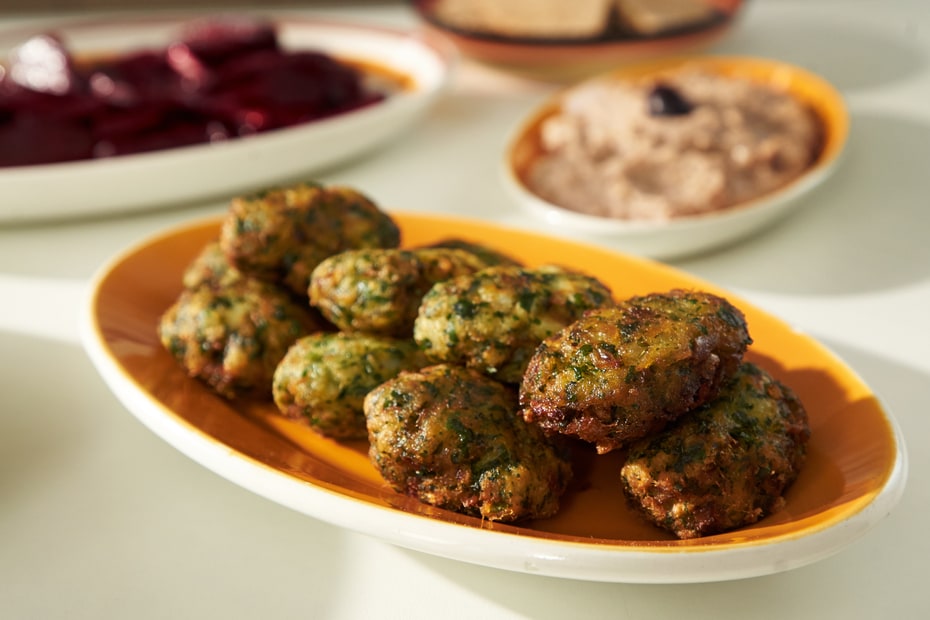 Cod Croquettes
---
Salt cod, or bakaliaros pastos, is sometimes referred to as the fish of the mountains. Cod is not native to the Mediterranean, but to the North Sea and Atlantic. Itinerant merchants would travel inland to sell preserved (salted or air-dried) cod and the tradition of cooking it has remained constant to this day. It is eaten most most notably on March 25th, the Annunciation in Greek Orthodoxy, and on Palm Sunday, the two days that fall during Lent in which fish is allowed. Cod croquettes are also a mainstay on meze and tavern tables.
Ingredients
2

pounds

/ 1 kilo salt cod fillets

1 ½

cups

chopped flat-leaf parsley

1

large onion

finely chopped

1

large egg

lightly beaten

¾ to 1

cup

all-purpose flour

1

teaspoon

baking soda

Olive or vegetable oil for frying
Instructions
Soak the cod in ample cold water for 2 days, changing the water every few hours.

When ready to cook, place in a large pot and bring to a simmer. Cook the cod for 7 minutes, to soften. Drain, cool and shred, removing any bones that may still be embedded in the fillets.

Combine the shredded cod, parsley, onion and egg. Mix together ¾ cup of flour and the baking soda and slowly add it to the cod mixture, kneading, until a sticky mass forms, dense enough to hold shape when you take a little in your hand and form it into a ball or patty. Add more flour if needed. Season to taste with salt and pepper. Take a heaping tablespoon at a time and shape the cod mixture into patties. Set them aside on a parchment-lined tray and chill for 30 minutes.

Heat 2 inches/5 cm of oil in a large frying pan. Test the oil's temperature by dropping a small piece of bread into it, which should crisp up and turn golden in a few seconds. Gently place the patties, one at a time until the frying pan is almost full, into the pan using kitchen tongs or a spatula. Fry until golden on one side then turn to brown on the other. Remove and drain on paper towels and repeat with remaining croquettes.

Serve hot, with Skordalia and Retsina!