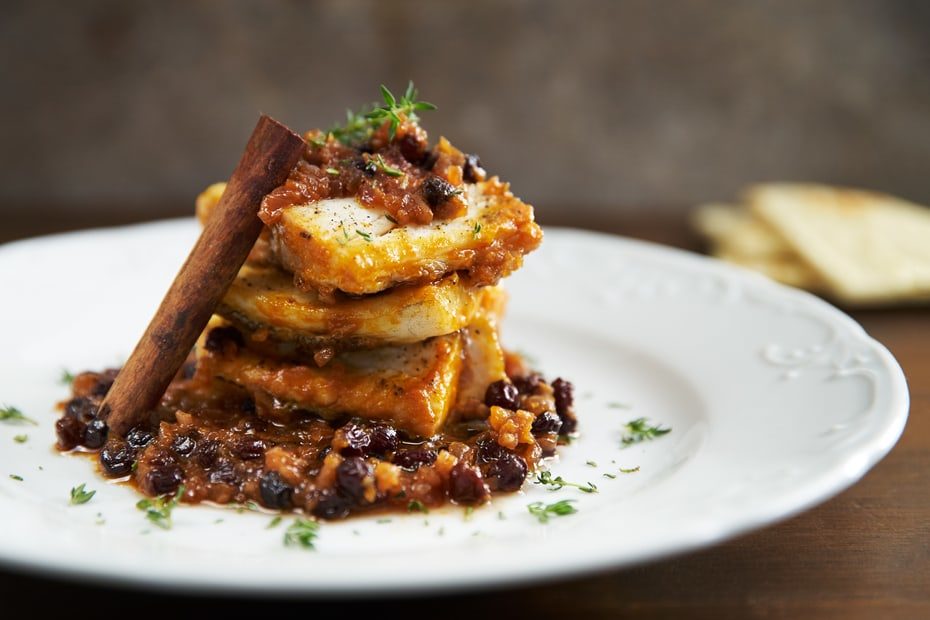 Bakaliaro - Salt Cod with Tomatoes, Onions & Raisins
---
This is a perfect Mediterranean Diet recipe, replete with fish, veggies, extra virgin Greek olive oil and a twist! Raisins and salt cod have always made an easy pairing in the traditional cooking of the Peloponnese. Raisins used to be one of the region's main commodities, and salt cod, while not of Greek origin, was once a very cheap import and sold by itinerant merchants in villages up and down the mountains. Indeed, it is sometimes referred to as the "mountain fish." In this Greek recipe, they make a surprisingly harmonious duet!
Ingredients
1

piece

salt cod

about 2 pounds, desalted over several days, or, alternatively, any firm-fleshed fresh white fish thick fillets

1/2 to 2/3

cup

extra-virgin Messinian or other Greek olive oil

4

large red onions

chopped

2 to 3

garlic cloves

to taste, chopped

2

tablespoons

tomato paste

diluted with 1/4 cup water

1

cup

dark raisins

1

cinnamon stick

1 to 4

whole cloves

to taste

10

allspice berries

Freshly ground black pepper to taste

4 - 6

thyme sprigs

½ - ⅔

cup

dry white wine
Instructions
Heat ½ cup of the olive oil in a large casserole or Dutch oven over medium heat and cook the onions, stirring, until wilted, about 10 minutes. Add the garlic and stir for a minute, Add the diluted tomato paste, raisins, and spices. Pour in the wine and add the thyme sprigs. Reduce the heat to medium-low and simmer the onions, covered, for 15 to 20 minutes, until very tender.

Cut the cod or other fish into large chunks. Place the fish on top, cover and simmer until the fish is flaky and fork-tender, another 15 to 20 minutes.Serve immediately, drizzled if desired with remaining olive oil.