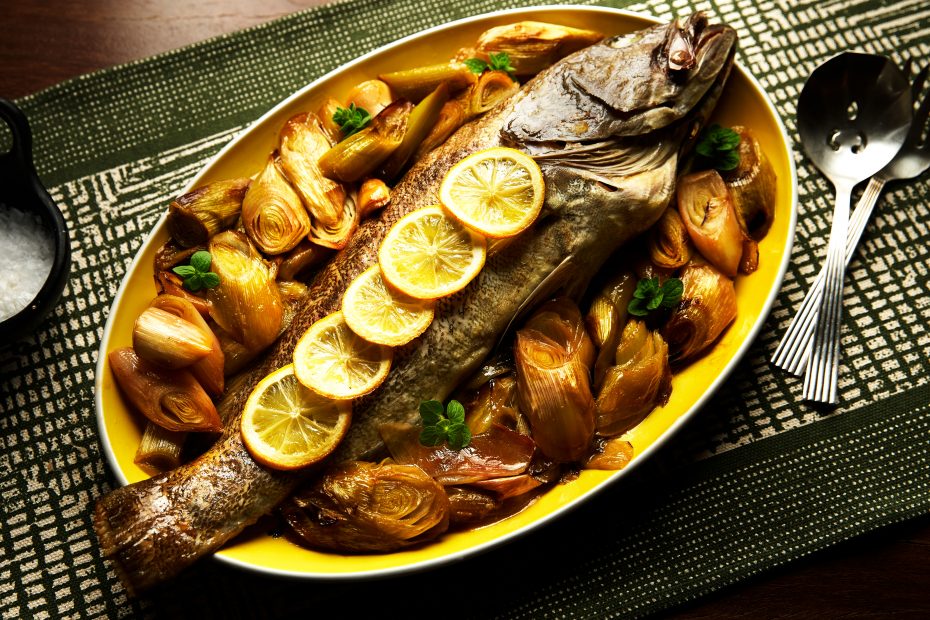 Whole Baked Grouper With Leeks
---
This simple, if dramatic recipe for whole baked grouper with leeks, will surely impress your friends while providing a really easy way to make a great centerpiece for a meal with company. Greek recipes for whole baked fish abound, often with a regional twist. I like to use grouper, sfirida in Greek, for this recipe, one of the most beloved fish in Greece, but you can use almost any large whole fish. This Greek recipe for fish speaks to the many different preparations beyond grilled fish that one finds all over the country. It is inspired from a traditional recipe for fish from Crete, where vegetables are often cooked with creatures from the sea either in the oven or as stews. I serve this elegant Greek fish recipe with a wine from Crete, a white Vidiano. Vidiano is a traditional grape varietal from Crete, most notably from the area around Rethymnon, and the last decade or so has seen its rise. On the nose, it will remind you of stone fruits, flowers and sweet herbs, and on the palate, Vidiano, with its medium-high alcohol content, has a creamy texture balanced by high acidity. It's the perfect match for a great fish dish!
Ingredients
2

leeks

5

Tbsp

extra virgin Greek olive oil

1

large whole grouper

or any other large white-fleshed whole fish), about 4 - 4 ½ pounds (2 kilos), cleaned of scales and viscera (ask your fishmonger to do this!)

A pinch of white pepper

A few sprigs of fresh oregano

A few sprigs of fresh thyme

A few sprigs of celery

if desired

A few sprigs of fresh fennel

if desired

1

lemon

cut into thin slices

1

cup

of dry Greek white wine
Instructions
Wash and rinse the leeks, making sure any sand or dirt between the layers is rinsed away. Trim the leeks and cut them into thick diagonal pieces.

Warm up 2 tablespoons of olive oil in a large frying pan over medium heat and add the leeks. Season them with salt and cook until they start to soften and get some color, about 10 to 12 minutes. As soon as they're done, remove from the pan and leave them aside. Cook them in batches if necessary until all the leeks are done.

Meanwhile, prepare the grouper. Lightly oil a large, long baking dish, big enough to fit the whole fish without the head or tail jutting out. Transfer the fish to the baking dish and season it on both sides with salt and pepper. Place the fresh herbs inside the fish's cavity. Drizzle 2 tablespoons of olive oil on the surface of the fish and oil the baking dish with 1 tablespoon of olive oil.

Add the cooked leeks right to the pan, all around the fish. Place the lemon slices on top of the fish, in a horizontal line across its length. Drizzle the white wine all around the baking dish.

Bake at 375 F (190 C) for 45 minutes or until the fish flakes easily with a fork. Serve warm.
Notes
Note: baking time for whole fish is generally 10 minutes a pound, or 20 minutes a kilo.