There are a couple of tricks I lean on to make these crowd-pleasing dishes. The first is to use nuts (generously) to thicken and provide umami and complexity in some of these dishes. The next is to use lots of extra virgin Greek olive oil! It lends the rich mouthfeel that makes all Greek food so comforting. And don't skimp on the lemon and herbs – they make the dishes so flavorful, most people won't even notice they're vegan!
Scroll down for my full vegan Christmas menu, and enjoy this holiday season.
Soup
You may know fava as that yellow split pea dip, with split peas that are grown in Santorini's famously volcanic soil. That olive oil-infused puree is delicious – it's one of the most popular Greek recipes for a reason! – but here, I've transformed this dip into a hearty vegan Santorini Fava Soup Garnished with Mushrooms & Capers, a luscious, easy, and delicious soup topped with wild mushrooms and the island's renowned tiny capers. It's the perfect blank palette on which to build the rest of your meal.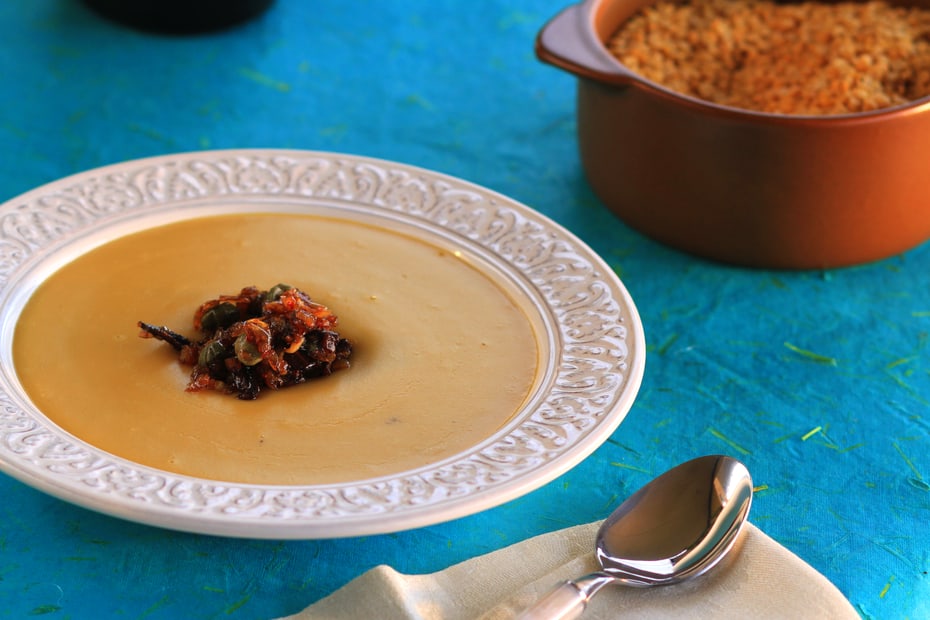 Main Dishes
These vegan main dish recipes are sure to impress even the most devoted carnivore among us. Let's start off with these Jammy Braised Chestnuts With Fresh Tomatoes & Herbs, an easy and elegant dish that features chestnuts, a major Mediterranean diet ingredient that often finds its way into stuffings, soups, and even plain as a snack. Here, it's in one of my most beloved Greek recipes, and one that always finds a place on my holiday table. Delicious, hearty, yet refreshing with plenty of herbs, it's a great choice for Christmas dinner. And beet recipes are always a good idea when looking for vegetable dishes to fill your holiday table! Take this Beetroot Tart Tatin, which combines the easy, fuss-free deliciousness of a tart with the earthy freshness of beets.
Side
When it comes to sides, no vegetables fill that role as well as potatoes. And these Vegan Hasselback Sweet Potatoes with Mint-Sage Pesto might just steal the show from everything else you're serving on Christmas. They always impress company and they're so easy to make! I like to combine dried Greek sage tea leaves and fresh mint, as well as some pine nuts for crunch and delicate flavor.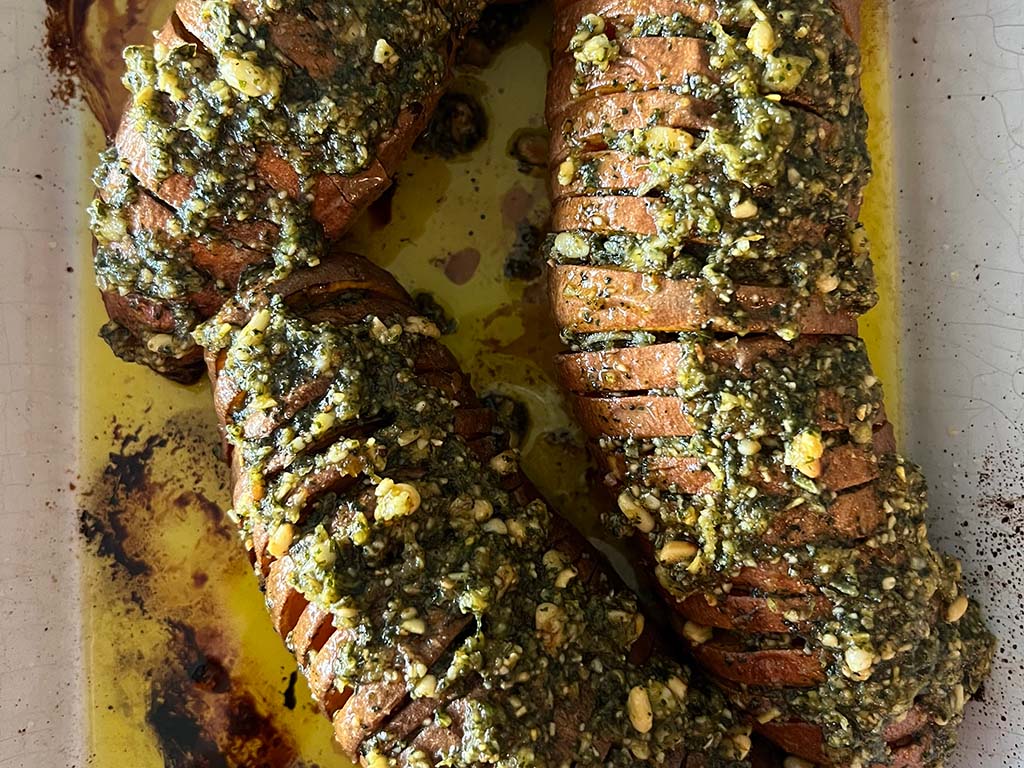 Dessert
Don't worry, you can go vegan for dessert too! This recipe for Rafiolia, Chios Sweet Pumpkin Phyllo Pastries is a sweet phyllo pastry filled with pumpkin, a very traditional dessert from the Aegean island of Chios. Similar Greek dessert recipes from the Aegean islands go by various names, such as rafiolia and keramidopites, or tile cakes, because they once were baked on hot ceramic roofing tiles, like a makeshift griddle. If you have a baker's stone for bread baking, try baking the little pumpkin pastries directly on top of it instead of frying them. You can make the filling savory by replacing the cinnamon and nutmeg with a little crumbled cashew cheese (for vegans) or feta cheese and some chopped herbs such as dill or parsley.