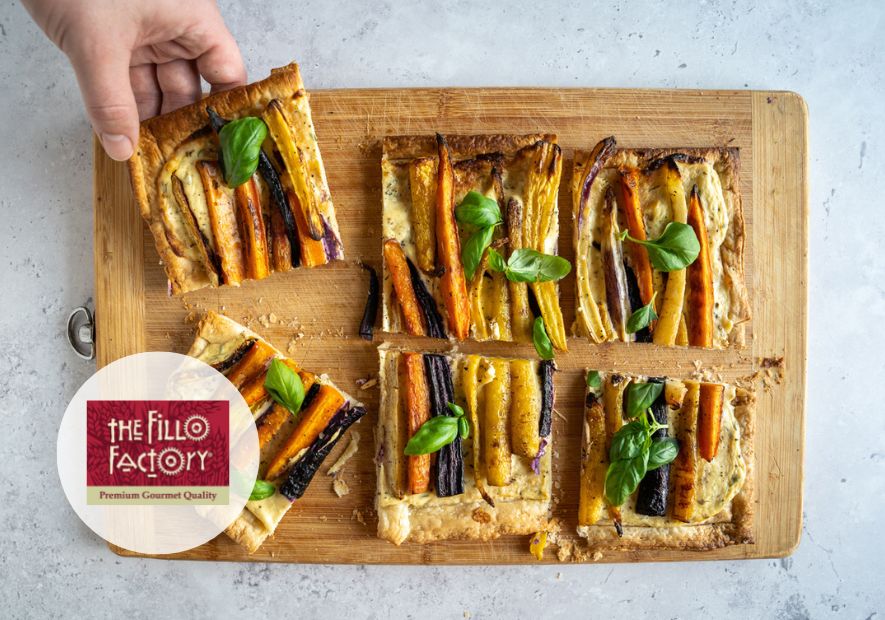 Roasted Heirloom Carrot Cheese Pie In Fillo Factory Puff Pastry
---
I can easily add this beautiful roasted heirloom carrot cheese pie in puff pastry to the long list of Greek savory pies. There are countless Greek recipes for savory pies, both traditional and contemporary, and many of them are plant-forward. This makes a great Mediterranean diet brunch recipe. I like to use Greek cheeses, such as manouri and mizithra and Greek feta, the latter of which adds tang and pungency to the other mild Greek cheeses and the sweetness of the roasted carrots.
Ingredients
1

little flour or cornstarch for rolling out the puff pastry

1

pound

multicolored heirloom carrots

pared, trimmed and sliced lengthwise into ¼-inch-thick strips

4 to 6

tablespoons

extra virgin Greek olive oil

1

teaspoon

dried Greek oregano or 3 tablespoons fresh chopped oregano

8

ounces

Greek anthotyro

soft mizithra or ricotta (preferably full fat)cheese

4

ounces

manouri cheese or ricotta salata

3

ounces

Greek feta

crumbled

½

cup

finely chopped fresh basil

2

garlic cloves

minced

Chopped fresh parsley or chives

for garnish
Instructions
Heat oven to 375 degrees F (190 C). Line a rectangular 9-in X 13-inch baking pan or tart pan with parchment paper and set aside

Toss carrots with 2 tablespoons of olive oil, oregano, garlic paste, salt, and pepper, and spread into a single layer on a baking sheet. Roast carrots on the bottom rack until the edges are golden brown and carrots are still crisp-tender, 15 to 20 minutes, tossing occasionally to keep them from charring. Remove the carrots and increase the oven temperature to 450F (220C).

On a lightly floured surface, roll puff pastry into a 10-by-14-inch rectangle. Using a paring knife, lightly score a border around the perimeter of the puff pastry about a ¼-inch away from the edges. Place the puff pastry on a parchment-lined baking sheet and prick the pastry inside the border using a fork to prevent puffing in the center. Place another baking pan over the top, to weigh down the pastry, and add the beans to the top pan as weight. Bake until puff pastry is lightly golden, about 12 to 15 minutes. Remove from the oven, remove the top pan and weights, and let the pastry cool slightly. Lower the oven temperature again, to 350F (160C).

In the bowl of a food processor, blend the cheeses, garlic and basil until smooth. Add a tablespoon or two of olive oil if necessary to make the mixture creamy. Season to taste with salt and pepper.

Spread the cheese mixture onto the cooled puff pastry up to the border and arrange the carrots in a single layer on top. Bake until the carrots are tender and the edges of the cheese mixture are golden brown, 15 to 20 minutes.

Drizzle with a tablespoon or two more olive oil and sprinkle with parsley or chives before serving.
Love savory pies and phyllo specialties? Sign up for my online class "Fearless Phyllo – Homemade!" to learn the secrets of making great, easy pies at home!