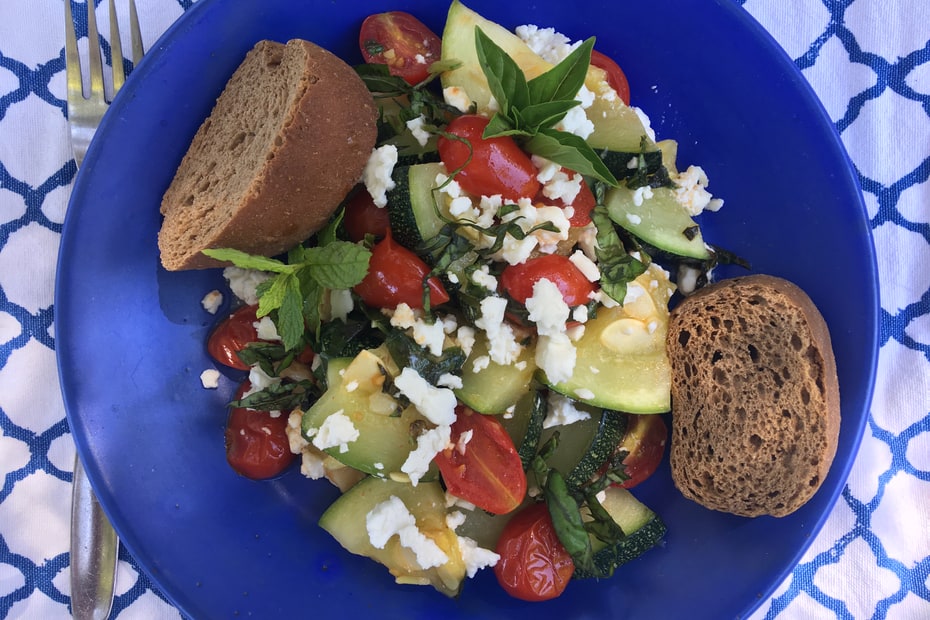 Zucchini Stir-Fry with Teardrop Tomatoes, Greek Herbs & Greek Feta
---
Every Greek summer, in my Ikaria garden, zucchini rules! This is one of my favorite Greek recipes for zucchini, a quick and easy stir-fry with a sprinkling of Greek feta and Greek herbs. Don't forget to use extra virgin Greek olive oil in this excellent example of a Mediterranean Diet recipe AND Ikaria longevity dish! Enjoy it al fresco, too, under the stars!
Ingredients
3

tablespoons

extra virgin Greek olive oil

3

cups

zucchini

cut into ½-inch cubes or ¼-inch wedges

3

garlic cloves

thinly sliced

1 ½

cups

teardrop tomatoes

halved lengthwise

2

tablespoons

chopped fresh mint

3

tablespoons

julienned fresh basil

Greek sea salt and pepper to taste

½

cup

crumbled Greek feta
Instructions
Heat the olive oil in a nonstick skillet over high heat and add the zucchini, stirring quickly but gently, until glistening. About five minutes after adding the zucchini, gently stir in the garlic.

Add the halved teardrop tomatoes and shuffle the pan back and forth over the flame to combine. Try not to use a spoon or spatula, so as not to break up the tomatoes. Season to taste with salt and pepper, and cook for a few minutes, until the zucchini is tender but al dente and the tomatoes juicy but not mushy.

Gently toss or stir in the herbs and crumbled Greek feta. Serve warm.
Want to learn more about Ikaria Longevity Cooking? Sign up for my online class bundle "Everything Ikaria 101!"