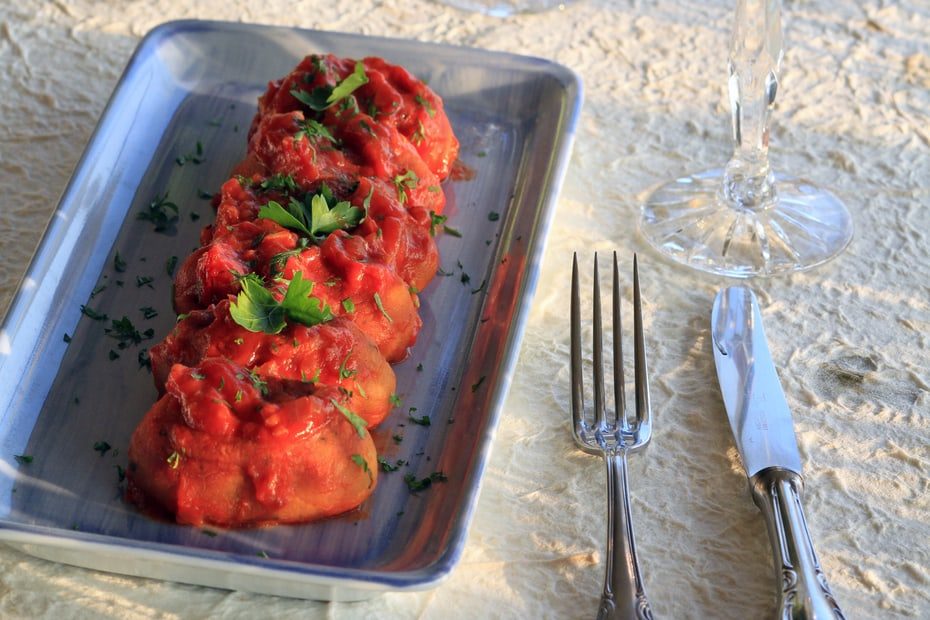 Vegan Fava "Sausages" in Spicy Cumin-Santorini Tomato
---
The classic Greek recipe for soutzoukakia Smyrneika, or Smyrna-style spicy meat sausages, is the inspiration for this vegan rendition, seasoned the same way but calling for plant protein in the form of ancient fava, one of the timeless, plant-based foods of sustenance from the Greek island of Santorini.
Recipe developed for campaign "Santorini Volcanic Terroir" www.santorinivolcanicterroir.eu 
Ingredients
1

bag Santorini Fava

5

tablespoons

olive oil

or more, as needed

3

large red onions

minced

5

garlic cloves

finely chopped

Juice of 1/2 fresh lemon

Black pepper to taste

1

heaping tablespoon cumin

or more, to taste

2

teaspoons

sweet paprika

1

cup

finely chopped parsley

4

– 8 tablespoons all-purpose flour

as needed

1

can Santorini whole tomatoes and juices

1

tablespoon

Santorini tomato paste

½

cup

Assyrtico wine
Instructions
Rinse and drain the fava. Heat 1 tablespoon of olive oil in a large, wide pot and add one-third of the chopped onions, two of the chopped garlic cloves and the fava. Turn to coat in the oil, then add enough water to cover by about 1 – 1 ½ inches. Leave the lid ajar and simmer the fava until thick and softened, adding a little water several times over the course of cooking, until the fava is done. The final cooked fava should have absorbed all its water and be thick like mashed potatoes.

Remove and puree in the pot with an immersion blender until very smooth and creamy, adding additional olive oil and the lemon juice in alternating doses, to achieve a velvety texture. Set aside to cool completely, covered with a kitchen towel.

Season the cooled fava with salt, pepper, cumin, paprika, and parsley. Mix together and adjust seasoning to taste. Add the flour in increments, mixing gently, to form a dense, thick mixture that holds it shape when formed into a ball.

Take a tablespoon at a time of the mixture and shape into oblong "sausages", about two inches long and an inch wide. Place on a tray lined with parchment. When done, chill the little sausages for one hour, to firm them up.

Heat olive oil in a large, wide pot. Dredge the fava sausages in a little seasoned flour and fry lightly and gently, turning carefully, to color a little on all sides. Remove and drain on paper towels.

Continue until done. Using a paper towel wipe the pan clean.

Heat 3 more tablespoons of olive oil in the pan and cook the remaining onions over medium heat until very soft and lightly browned, about 15 minutes. Stir in the remaining garlic. Lower heat and carefully place the fava sausages in the pot, snugly. Pour in the tomatoes and wine. Add water only if necessary so that liquid comes halfway up the contents of the pot. Season with a little salt, pepper and cumin. Cover and bring to a simmer. Cook covered over low heat until the sauce is thick and the sausages tender, about 35 minutes. Five minutes before removing from heat, very gently stir in the tomato paste. Remove, cool slightly, and serve.

You can serve this with Greek yogurt or with a quick dip of Greek yogurt (1 cup) swirled with olive oil, 2 teaspoons Santorini tomato paste, 2 teaspoons chopped Santorini capers and grated lemon zest.