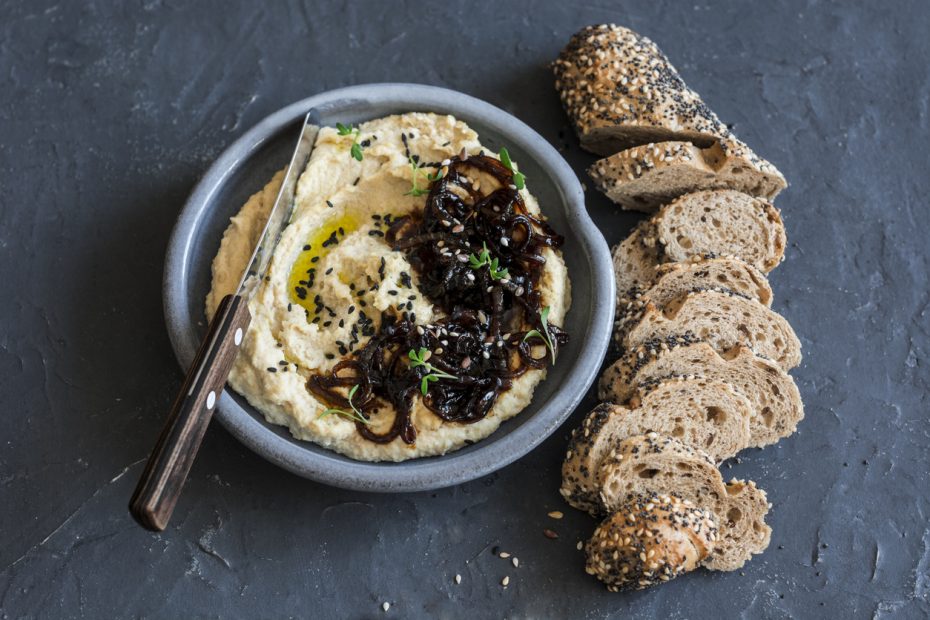 Two-Bean Hummus with Mastiha and Caramelized Onions
---
Hummus is one of the world's most beloved foods, and this two-bean hummus with Mastiha and Caramelized onions is a great example of how delicious, nutritious and versatile the traditional dishes of the Mediterranean diet can be. While hummus is mostly a Middle Eastern specialty, it has also been adapted to the Greek kitchen, and Greek home cooks and restaurant chefs alike dress it up every which way, including flavoring it with mastiha, the Mediterranean's most seductive spice, produced only on the island of Chios. So here's a Greek recipe for hummus that will turn heads and keep you going back for more.
Ingredients
2

cups

cooked,

drained chickpeas (good-quality, preferably organic, canned are fine)

1

cup

cooked,

drained cannellini beans, (good quality, preferably organic, canned beans are fine)

½

cup

extra-virgin Greek olive oil

plus more, if needed

3/4

cup

tahini

preferably from unhulled sesame seeds

1

tsp

cumin powder

1

scant tsp mastiha powder

Juice of 1 lemon or 2 tablespoons red wine vinegar

For Garnish

2

large sweet onions

halved and sliced

2

Tbsp

extra-virgin Greek olive oil

2

tsp

petimezi

grape molasses, optional

2

Tbsp

sherry or balsamic vinegar
Instructions
Drain and rinse the chickpeas. Place the chickpeas in the bowl of a food processor and puree to a mealy consistency. Add the garlic, cumin and mastiha powder and pulse on and off to combine. Add the tahini and process to a smooth paste, all the while drizzling in olive oil until the hummus achieves a creamy consistency. Balance the flavor with a little lemon juice or vinegar and season to taste with salt. If it is too dense, dilute it with a little water. Set it aside.

Caramelize the onions: Gently heat the olive oil in a large, heavy nonstick skillet and add the onions. Stir to coat in the oil, season with a pinch of salt and cook the onions for about 30 minutes on low heat until soft and amber in color. Stir the onions up every few minutes while they cook to prevent them from burning. About 5 minutes before removing from heat, add the petimezi and/or balsamic.

Spread the hummus into a bowl or platter and garnish with the onions.
Want to learn more easy, healthy Mediterranean diet recipes? Sign up for my online course "Mastering the Mediterranean!"
Notes
All onions can be caramelized, but some do the job better. The sweeter the onion, the easier it will caramelize because it's actually the sugars in the onion that turn brown. The best varieties are Vidalia, Walla Walla, Sweet Imperial, and Texas Sweet