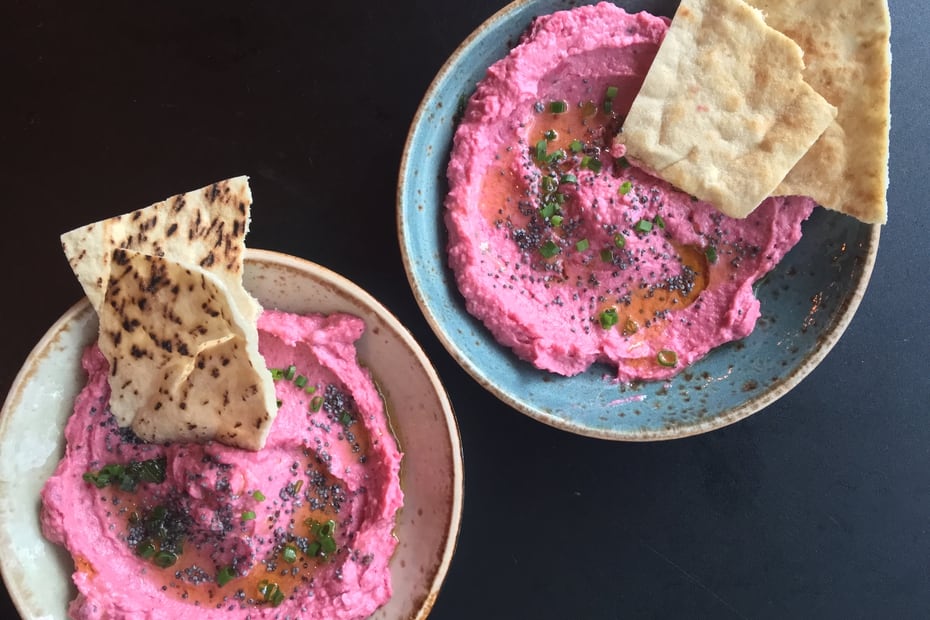 Beetroot Hummus With Feta and Greek Yogurt
---
Did the ancient Greeks invent the concept of dips? That may very well be true! No, "dip" isn't a Greek word (!), but opson is, and it refers to the relish that was savored with wheat or barley bread.
This recipe, for beetroot hummus, comes from my work as consulting chef at Committee Ouzerie in Boston and marries a few traditions in and around the Eastern Mediterranean. Hummus, of course, isn't Greek per se (we puree other pulses such as yellow split peas and white beans to make velvety pastes), although it is widely served in Greece and in Greek restaurants abroad. With a little poetic license (as well as feta and yogurt) I've Hellenized it. I am hoping your hummus will be forever changed as a result!
Ingredients
1

large red beet

about 6 ounces/175 g, scrubbed

1 1/2

cups

boiled

drained chickpeas or 1 15½-ounce can chickpeas, rinsed and drained

1

garlic clove

finely chopped

1/2

cup

tahini

well mixed

1/3

cup

fresh lemon juice

3

tablespoons

crumbled Greek feta

4

tablespoons

Greek yogurt

A few drops of hot sauce

optional

Freshly ground black pepper to taste

1

scant teaspoon ground cumin

or more, to taste

1/2

teaspoon

ground coriander

or more, to taste

2

– 4 tablespoons extra virgin Greek olive oil

Greek sea salt

or other good-quality, preferably unprocessed and un-iodized salt

3 -4 fresh chives, chopped, pine nuts or poppy seeds, and olive oil (for serving)
Instructions
Trim the root and stem ends off the beet and scrub the exterior well. Place in a small pot with enough water to cover and bring to a boil. Add a pinch of salt to the water. Cover and simmer for about 30 – 40 minutes, or until the beet is tender. Drain and cool. (Note: You can prepare the beet a day or two ahead or use a store-bought, pre-boiled beet, but the flavor won't be as intense. I don't recommend canned beets.) Peel the beet and coarsely chop.

Place the drained chickpeas and garlic in the bowl of a food processor together with the tahini and lemon juice. Pulse on and off until the mixture is a dense, grainy paste. Add the feta, yogurt, optional hot sauce, and spices. Pulse on and off to combine. Add the beets and pulse to combine. Taste and adjust seasoning with salt and additional spices as desired. With the motor running, process the beet hummus until smooth, adding a tablespoon of olive oil or more as needed until the texture is creamy. If the mixture is too thick, you can dilute it as well with a tablespoon or two of water, pulsing on and off as you add.

In a separate small, dry skillet over medium heat, toast the poppy seeds and/or pine nuts for about a minute, stirring, to release their essential oils and bring out their flavor.

Serve the beetroot hummus in a bowl or bowls, garnished with some of the poppy seeds and/or pine nuts and chopped chives. Serve with pita chips or toasted or fresh pita bread wedges.