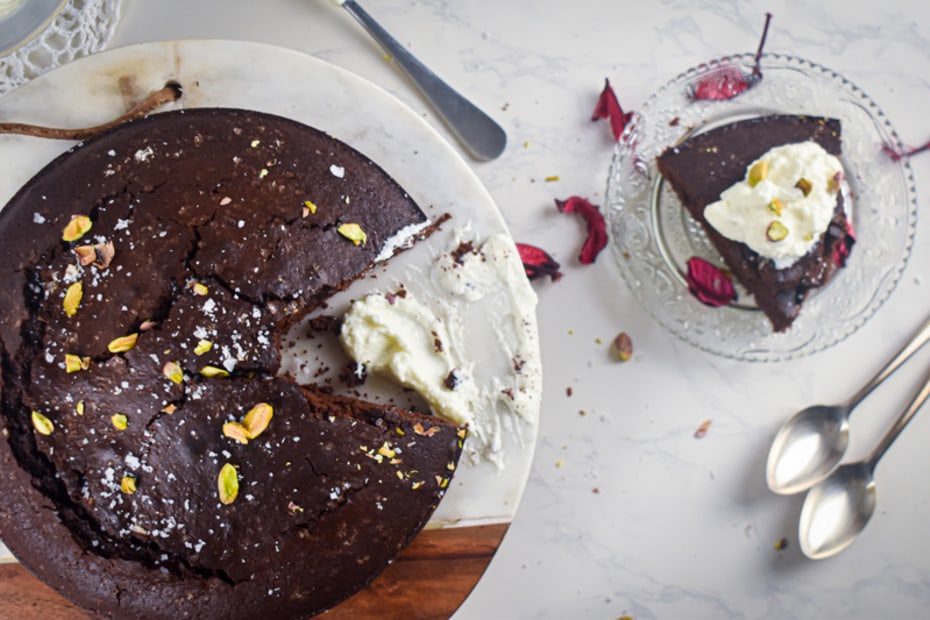 Greek Olive Oil Chocolate Cake with Mastiha Cream
---
Let me win your heart and keep it healthy with this delicious Greek recipe using two of the most nutritious Greek ingredients in the world, the one-of-a-kind resinous spice called Mastiha, and great extra virgin Greek olive oil Combined with chocolate in this delicious cake, this trio is an absolute winner.
Ingredients
¾

cup

180ml extra-virgin Greek olive oil, more for greasing the pan

½

cup

70g good-quality unsweetened cocoa powder

½

cup

120ml boiling water

1

tablespoon

pure vanilla extract

1

tablespoon

Mastiha liqueur

optional

1⅓

cups

165g all-purpose flour

½

teaspoon

baking soda

1

teaspoon

Greek fine sea salt

1

cup

195g sugar

3

large eggs

Greek fleur de sel

flaky sea salt
For the mastiha cream:
½

cup

120ml heavy cream

½

teaspoon

mastiha powder or ½ teaspoon mastiha crystals pounded ina mortar and pestle with 1 teaspoon sugar

1

teaspoon

confectioner's sugar
For serving:
Fresh or dried unsprayed rose petals

optional

½

cup

65 g chopped unsalted pistachios
Instructions
Preheat the oven to 325°F (165°C). Grease a 9-inch (23-cm) spring-form baking pan with a little olive oil and line the base with parchment paper.

Sift the cocoa into a medium bowl and whisk in the boiling water until smooth. Whisk in the vanilla and mastiha liqueur, then set aside to cool slightly.

In a separate large bowl, combine the flour, baking soda, and salt.

In the bowl of a stand mixer and using the paddle attachment, beat together the sugar, olive oil, and eggs for about 4 minutes, until light and fluffy.

Lower the mixer speed and pour in the cocoa and vanilla mixture. Slowly add the flour mixture until it is evenly incorporated, stopping the mixer and scraping down the bowl with a rubber spatula as necessary.

Pour the batter into the prepared pan and sprinkle with flaky sea salt. Bake for 30 to 35 minutes, or until the sides are set and the top of the cake still looks slightly moist. A cake tester inserted into the center should come out clean. Remove from oven and let the cake cool in the pan on a wire rack for 10 minutes.

Make the cream while the cake is baking: In a chilled metal or glass bowl using a hand mixer, beat the cream on medium speed until soft peaks form. Add the pounded mastiha or mastiha powder and confectioner's sugar and beat until stiff peaks form.

Cover and refrigerate until ready to serve.

Run a knife around the edge of the cake and release the sides of the pan. Transfer the cake to a serving plate or cake stand. Sprinkle with more flaky salt. Serve each slice with a dollop of the mastiha cream and serve.