The Parthenon not withstanding, Athens is a city whose charms are often hiding in plain site. This is as true for locals as it is for anyone visiting Athens or traveling to Greece and making the must-see stopover to the Acropolis and other ancient Greek sites in the capital.
In the hands of tour guides and travel agents, most visitors to Athens are shepherded to the sites and fed on mediocre tourist food before being discharged to their respective flights or cruises to the Greek islands. But Athens is a city worth exploring, even if you only have a few hours or days to do so. Its food scene is vibrant. For relatively little money you can enjoy great Greek food as well as other ethnic cuisines. But most of all, with a little research you can see and experience the city as locals do, by going to the same cafés, Greek tavernas and hip bars that Athenians love. Many of these places are literally hiding in plain site right in the heart of downtown Athens. Most are inside the stoas.
The stoas are a uniquely Athenian architectural legacy, tunnel-like atriums that usually connect two buildings or two streets. They are often the location of some of the most amazing little shops, food included, and are well worth exploring. They offer respite from the crowds, the heat, and the noise. They also are home to some of the best authentic mom-and-pop small Greek restaurants I dare say in the world.
Here are a few of my favorites.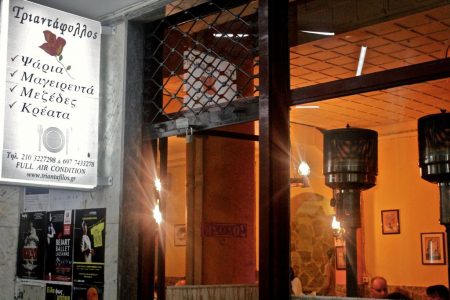 To Triantafilo tis Nostimias (The Tasty Rose) You won't notice this tiny place unless you look straight into the stoa (arcade) on Lekka, to the right as you are walking toward the Central Market. Faux stone walls, old-fashioned lace curtains, wine barrels against one wall and the scent of octopus are what attract a local crowd here for lunch and only lunch, Monday through Saturday. If you happen to be in the center of town and want a decent, friendly place to grab a healthy lunch, mainly seafood, then try this tasty rose. Lekka 22, Syntagma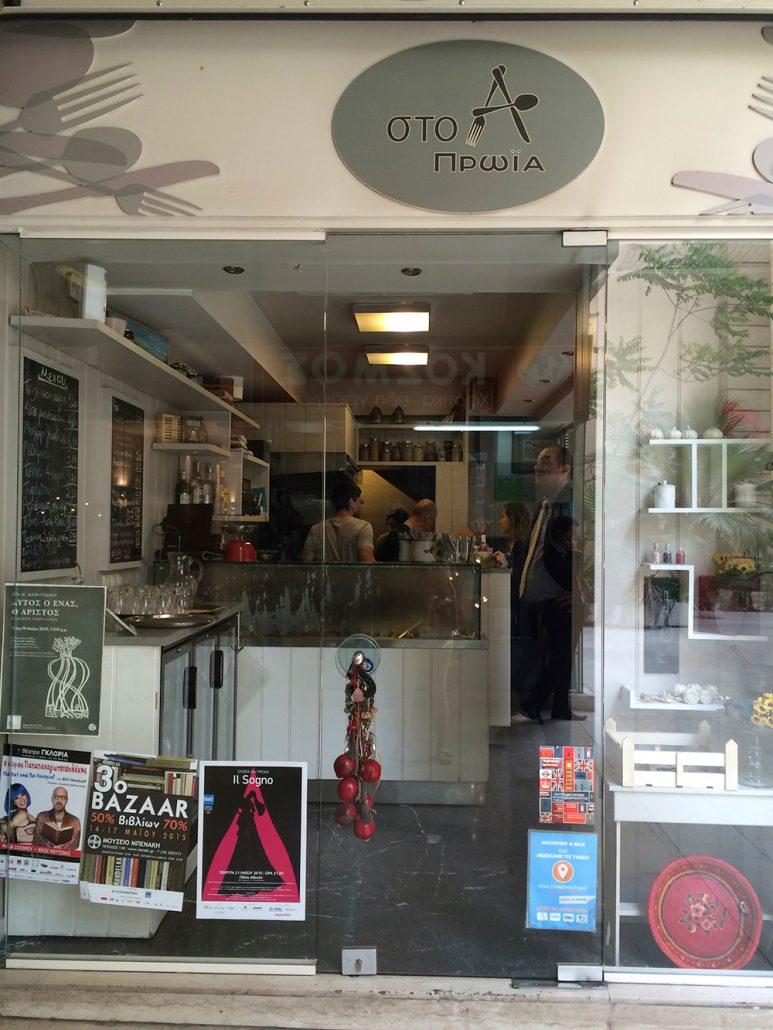 Stoa Proia
Who would've guessed? That about sums up my sentiments when I ran across this little gem hiding, literally, in plain sight, not only inside but also around a corner of the interior of the Stoa Pesmazoglou off Panepistimiou Street in downtown Athens. The Stoa is one of the busiest, a place to shop for traditional Greek music and books, among other things. In a space about the size of a suburban closet, the owner and two-person staff prepare some of best traditional Greek home-style cooking in Athens. Tasty vegetable and bean stews are on the menu every day. This is a find for Greek-food lovers who want to eat on the cheap. Inside the Stoa Pesmazoglou.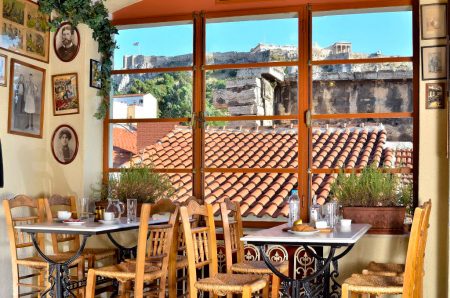 Oraia Ellas.
Beautiful Greece. That's what the name of this decades old café-mezedopoleion means in English. To get to Oraia Ellas, on the mezzanine level of one of Athens' most picturesque stoas, you have to walk passed museum-quality displays of traditional Greek pottery, antiques, embroidery and more, all for sale, all beautifully tempting. The café has been a favorite spot for generations, discovered anew by the 20-something set every few years. And no wonder. From the old square glass panes you see the back of the Acropolis past a sea of red-tiled roofs. Athens seems quaint from this vantage point. Being at "Beautiful Greece" indeed, transports one to another time, when life was a lot simpler in the complex, fascinating city of Athens. Mitropoleos 59
To find more of Athens hidden dining treasures as well as tips on where to buy the best Greek food products, wines, and spirits, download my Taste Athens app here!