But I have been thinking a lot lately about food and national identity, especially in this age of immigration chaos all over the West. The Greek story is essentially an immigration story, the Odyssey played out in the psyche of so many Greek immigrants who left the country to search for opportunity abroad, often longing to return. Nostos means the return home in Greek, but it is also the root of the word nostalgia and nostimo—tasty. In our national psyche good food is equated with the flavors of home. The farther afield Greeks have sailed, the stronger that desire for nostos.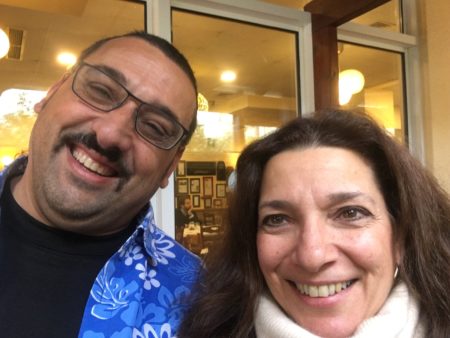 I had the great pleasure recently of chatting with one Greek chef who lives and works about as far away as one can get from the Mediterranean, Sydney native David Tsirekas. He cooked up a unique dinner, themed the Story of Greek Immigration in Australia through Food, at the residence of the Australian Ambassador. The evening started with a trio of batter-fried seafood and fish, homage to Arthur and George Conollos, Greek immigrants to Australia in the 1870s, who started a fish and chips business that grew to 400 locations by 1917, all run by Kytherians, according to Tsirekas. Next came a round of crispy fried eggplant garnished with a creamy kingfish spread, a tribute to another Greek immigrant Tsirekas singled out for his place in the Australian food story: George Kavalineas, a Kalymnos native, whose fishing business grew to be one of the main suppliers of the Australian mining operations and the navy. "Greeks have been strongest with seafood," he noted, but have also spawned numerous popular trends over the last century of migration. The milk bar was a Greek idea, for example. "Hospitality and nurturing—it's what makes us who we are. No other group has this strong a sense of community, friendship and nationhood," Tsirekas noted.
The Greek food scene in Australia has progressed rapidly over the last 20 years, and two people helped catapult it forward. One, Peter Conistis, whom I met about 15 years ago here in Athens, is the father of modern Greek cuisine in Australia; the other, George Calombaris, is the father of molecular cuisine Down Under. In a homage to both but also as a symbol of the simplicity inherent in all Greek cooking, Tsirekas prepared a not-so-classic Greek salad, replete with candied cherry tomatoes, Kalamata olive dust and feta marshmallows. I liked it! At home, he says he uses a coroneiki olive oil produced in Queensland.
Greek cooking in Australia seems much less tethered to tradition that it is, say, in the U.S., where few Greek kitchens have ventured toward molecular cuisine and fewer still dare cross-pollinate to produce Greek hybrids. But in Australia, so close to Asia, that's not necessarily the case, and two of Chef David's creations mirrored the relative ease with which Asian ingredients insinuate themselves into the Greek kitchen. In creating them, he also pays homage to two other Greek-Australians, the Christodoulou and Loukas families. He made a hortopita, greens pie, using roti instead of phyllo and deconstructed it so that the pastry was actually separate from the filling. His red curry seafood saganaki with steamed spanakorizo was unabashedly flavored with an Asian palette, a tribute to the Loukases, who own a large franchise of Thai and other Asian restaurants.
In talking about the Asian influence, Tsirekas brought up Tess Malios, an important cookbook author who taught several generations of Australians to cook Greek, but also how to cook foreign foods. Her books are classics. His food, as he describes it, is a journey through time, history and cultural influences. A Tsirekas signature, pork belly baklava presented in Greek columns, came to him in a dream. His last course, a ravani modelled after the classic Australian coconut cake, the Lamington, he serves with something that taps into his own northern Greek roots: ice cream made with Florina peppers (delicious!).
If David's dinner was a tribute to Greeks' contribution to Australian food culture it was also the story of every immigrant, and how the migrant story always takes food in an ethnic context and develops it to be part of the broader new culture. Perhaps what makes Greeks and their food a bit different is what Tsirekas so beautifully calls the "filotimo particle," our innate love of sharing our food with everyone who cares for a taste of nostos.