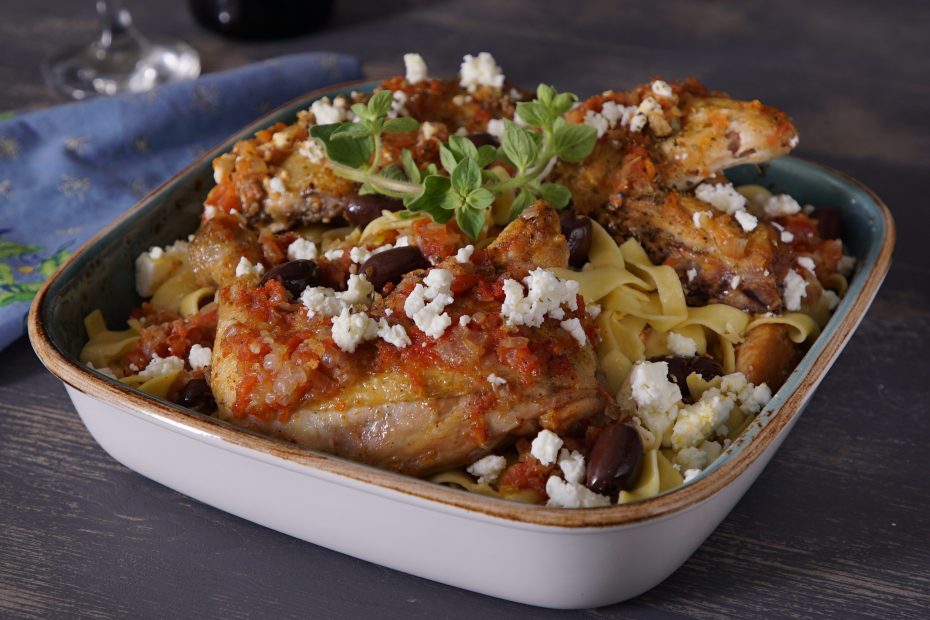 Spartan Chicken
---
Who doesn't love a delicious, comforting chicken dish, especially one that's got the word Sparta in it! A feast for everyday heroes to be sure, this recipe is from Season 1 of My Greek Table. To find some of the artisanal Greek products you'll need to make this, visit my online shop, where you'll discover a host of lovingly curated Greek ingredients.
Ingredients
1 4-

pound

/ 1.9 kilo chicken

washed and quartered or 4 pounds pre-cut chicken parts

Greek olive oil for frying

3

large red onions

finely chopped

3

garlic cloves

finely chopped

2

large

firm, ripe tomatoes, grated

½ to ¾

cup

water

2

teaspoons

dried Greek oregano

1

tablespoon

red wine vinegar

or more, to taste

¼

pound

/ 125 g feta cheese

crumbled

1

pound

Greek or other egg or whole wheat noodles
Instructions
Season the chicken lightly with salt and pepper.

Heat the olive oil in a large heavy skillet or Dutch oven over medium flame. Sear the chicken, in batches if necessary, turning with kitchen tongs to brown. Remove and set aside.

Skim the excess rendered chicken fat from the skillet.

Place onions in the skillet and cook over medium heat until translucent, about 8 to 10 minutes. Stir in the garlic.

Add browned chicken back to pan. Pour tomatoes over mixture and add ½ cup wine or water.

Cover and simmer for 35 - 40 minutes over medium to low heat, until chicken is almost cooked and sauce and pan juices are reduced and thickened.

While the chicken is simmering, bring a large pot of cold water to a rolling boil, salt generously, and cook the noodles. Strain and stir gently with 3 tablespoons of olive oil. Set aside, covered, to keep warm.

About ten minutes before removing the chicken from heat, add the oregano, olives and vinegar. Season to taste with a little salt and pepper, but judiciously since the feta will also add saltiness to the final dish.

Sprinkle or strew the feta over the chicken and sauce. Simmer another 5 to 8 minutes, until cheese has melted. Serve hot over Greek-style noodles.
Love chicken? Check out my online class "Wing It! – Great Mediterranean Chicken!"