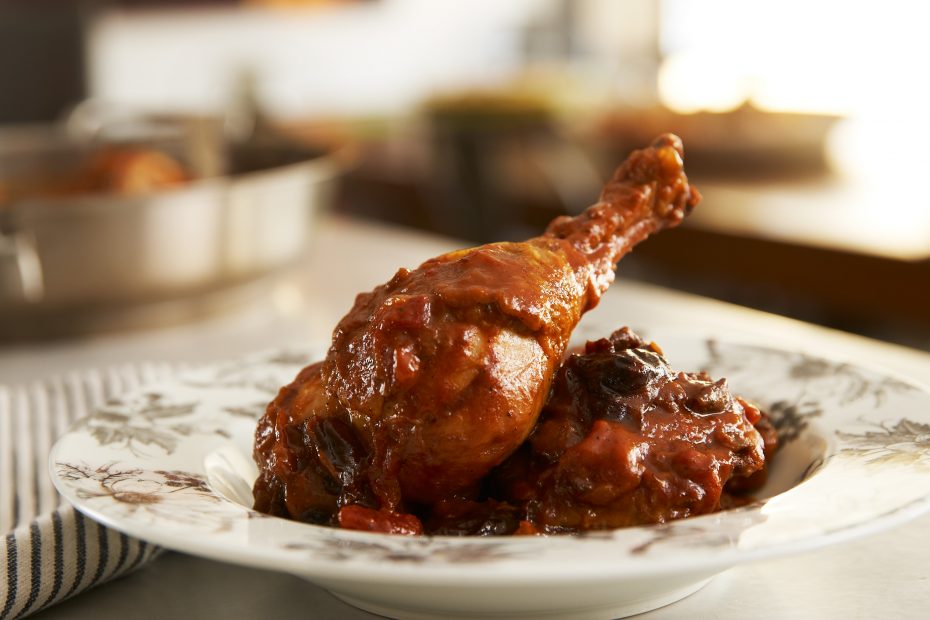 Chicken With Prunes
---
Chicken with prunes, or Poyo con Prunes as it's called in Ladino, the language of the Sephardic Jews of Thessaloniki, is one of the most delicious traditional Sephardic recipes. Dried fruits and meat are a common combination in Sephardic and Northern Greek cooking. I paired this chicken recipe with an Agiorghitiko red wine from Nemea.
Ingredients
1 3-4

lb.

chicken

cut into serving pieces

2

medium onions

3

cloves

garlic

1

tsp

cayenne pepper

½

tsp

ground cinnamon

20

coriander seeds

25

dried prunes

1

Tbsp

tomato paste

1

cup

dry red wine

Stock

made with back, neck, and giblets of chicken

Basic tomato puree

made with 3 large tomatoes

Sea salt and freshly ground pepper

1

cinnamon stick

⅓

cup

parsley

finely chopped (optional)
Instructions
Pat dry the chicken using paper towels.

Heat 3 tablespoons of olive oil in a heavy frying pan and fry the chicken until it begins to brown. Transfer the chicken to a plate and season with salt and pepper.

Meanwhile, slice the onions into thick rings and finely chop the garlic.

Add the onions to the oil in the pan, cook over medium low heat, and scrape up the bottom of the pan to loosen any bits left from browning the chicken.

Meanwhile, grind the coriander seeds in a mortar with a pestle. (You can also do this in a spice grinder.)

Add garlic to the pan and saute until transparent, a minute or so. Add the cayenne pepper, cinnamon, ground coriander seeds, and a few prunes and mash them in the pan with the side of a spoon. Add the tomato paste next and cook it for 3 minutes. Add red wine and bring to a simmer.

As soon as the alcohol in the wine is evaporated, add the chicken broth and the tomatoes, and the rest of the prunes. Season with salt and pepper. Add the cinnamon stick. Simmer over low heat for 15 to 20 minutes until the sauce thickens.

Add the chicken to the pan, spooning the sauce over it to cover. Place the lid on the pot and simmer over low heat for about 40 minutes or until the chicken is tender. This tastes even better if the chicken is cooked several hours in advance and reheated before serving.
Love chicken? Check out my online class "Wing It! – Great Mediterranean Chicken!"