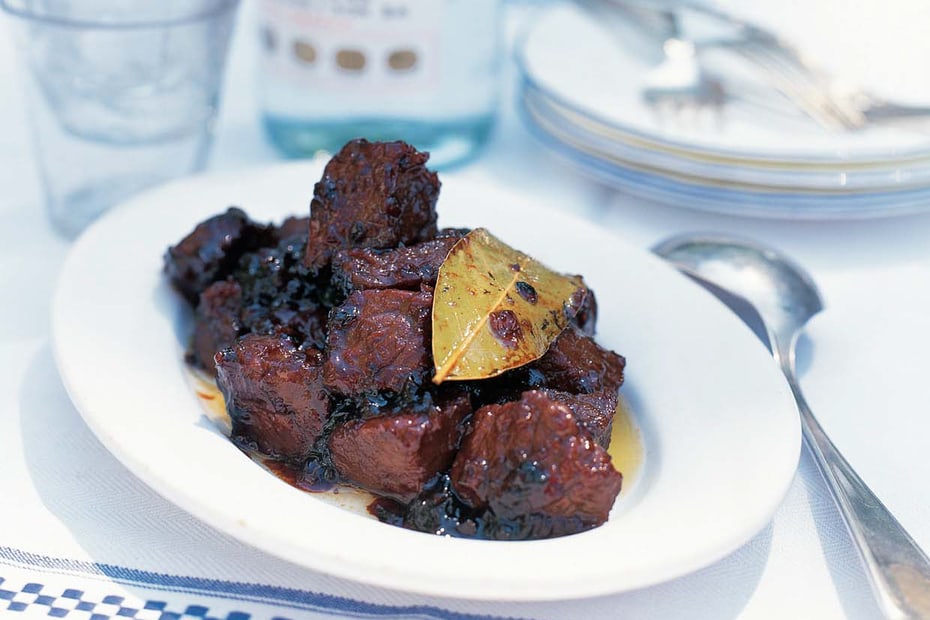 Sticky Beef with Greek Honey, Onions & Bay Leaves
---
Crete, birthplace of the Mediterranean Diet, is also the home of this unusual Greek meze recipe for slow-cooked beef with honey. It comes from a small restaurant in Rethymnon called Avli.
Instructions
Rinse and pat dry the meat. Set aside.

Melt the butter in a large, wide pot over low heat and cook the onions in it until soft and wilted, about 12 minutes. Remove and set aside.

Add the olive oil to the pot, raise the heat to high, and brown the meat well, turning to color on all sides. Add the onions back to the pot, season to taste with salt and stir gently.

Add the peppercorns, wine and bay leaf. Cover and bring to a boil. Reduce heat and simmer the meat very slowly for about 2 ½ hours. Add water during cooking as needed to keep the contents of the pot moist.

An hour before removing from heat, add the honey and stir. Continue cooking for about an hour, until the meat is very tender and deep, dark brown. The oan juices will be thick. Remove and serve.