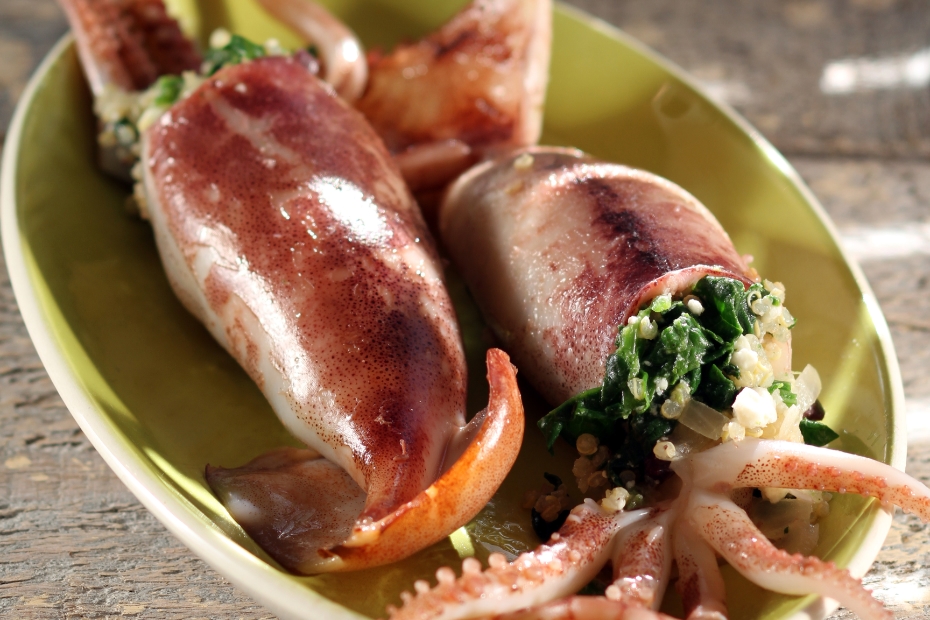 Calamari Stuffed with Spanakopita Quinoa
---
Here is a wonderful variation on two classic dishes: aromatic stuffed squid and spanakopita. I use quinoa and recommend that you use great Greek olive oil, real Greek feta and the freshest spinach. To find some of the artisanal Greek products you'll need to make this, visit my online shop, where you'll discover a host of lovingly curated Greek ingredients.
Ingredients
2

pounds

medium sized whole squid*

1

cup

quinoa

1

red onion

finely chopped

1

leek

trimmed and finely chopped

2

garlic cloves

minced

1

pound

baby spinach

trimmed and choppped

1

cup

crumbled Greek feta

Pinch

of freshly grated nutmeg

½

cup

snipped fresh dill

½

cup

snipped fresh mint

½

cup

dry white wine
Instructions
Clean the squid: Pull out the tentacles and head and, using your fingers (you can wear gloves), scoop out the viscera and cartilage and discard. Cut off the viscera from the head, just below the eyes. Rinse the squid thoroughly under cold, running water. Set aside refrigerated until ready to use.

Wash the spinach in a salad spinner and spin dry thoroughly. Set aside.

Place the quinoa in a pot with ample water, bring to a boil, season with salt, and reduce heat to a simmer. Cook the quinoa for 15 minutes then drain in a colander.

Heat 3 tablespoons of olive oil in a large, deep, heavy skillet or wide pot. Cook the onion and leek in the oil over medium heat, stirring, until wilted, about 8 minutes. Stir in the garlic. Transfer the contents of the skillet to a mixing bowl, scraping out all of it with a rubber spatula.

In the same skillet or pot, heat one more tablespoon of olive oil and cook the spinach, in batches if necessary, until wilted. Transfer the spinach to the mixing bowl with the onion mixture. Mix in the cooked quinoa, crumbled feta, dill, mint, and spices. Let the mixture cool slightly.

Remove the squid from the refrigerator and fill each squid tube with a few tablespoons of the spinach-quinoa mixture, leaving a little room at the top. Place the tentacles as a stopper inside each tube.

Place the stuffed calamari in one or two snug layers inside the same skillet. Season with a little salt and pepper. Pour in the wine and drizzle the remaining olive oil over the squid. Cover and cook on low heat for about 30 - 40 minutes, or until the calamari is very tender. Remove, cool slightly and serve.
Notes
* You can use frozen squid for this as well. Defrost overnight in the refrigerator.