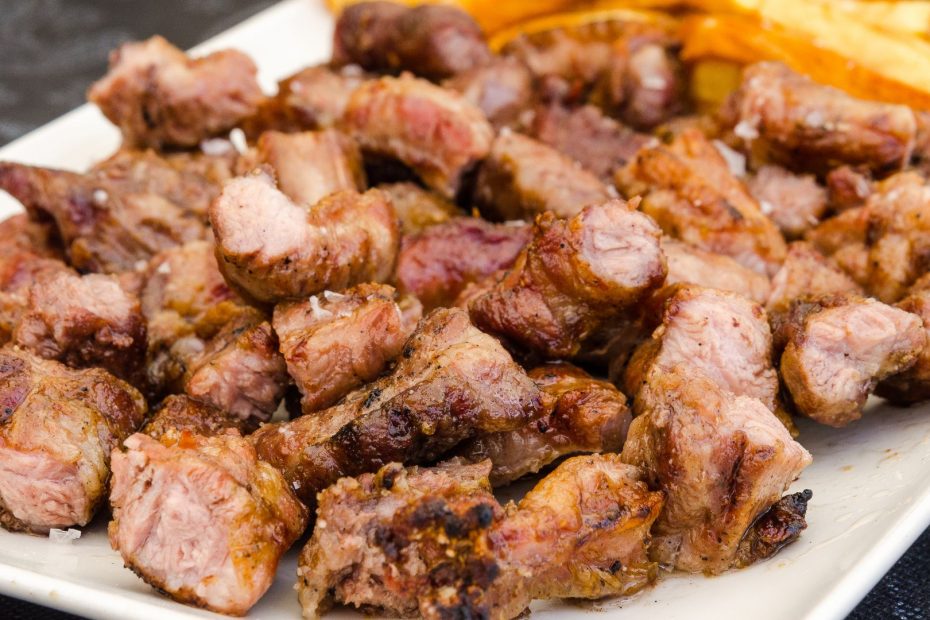 Cyprus Braised Pork With Wine And Coriander - Afelia
---
Pork, you may be surprised to learn, is one of the most important sources of protein inthe Mediterranean diet, at least among those populations (Non Jewish and non Muslim) where it has long been a traditional meat. There are many braised pork recipes throughout Greece and Cyprus, and this one is a classic from Cypriot cuisine. Consider this a delicious Sunday or festive recipe, something special the whole family can enjoy.
Ingredients
2

pounds

lean boneless pork

cut into stewing cubes

1

cups

dry

full-bodied red wine, or more as desired

2

heaping tablespoons coriander seeds

crushed with a mortar and pestle

Salt and freshly ground pepper

to taste
Instructions
Place pork in a large bowl with cover and add 1 to 1 ½ cups wine and 1 heaping tablespoon crushed coriander seeds. Cover and marinate in the refrigerator for 24 hours.

Remove pork from marinade and pat dry. Do not discard the marinade. In a large heavy stewing pot, heat olive oil over medium-high heat. Add pork chunks, a few at a time, and frequently turn on all sides so that they brown evenly and lightly.

Pour in the marinade with coriander seeds, ½ cup more red wine, and enough water to cover the meat. Bring to a gentle boil. Reduce heat, add salt and pepper, cover pot, and simmer for about 2 hours, or until pork is very tender but not dry. Add more wine and water throughout cooking, if necessary, to keep the mixture moist. About 20 minutes before removing pork from heat, add the remaining tablespoon of coriander. The sauce should be reduced and thick; it may be necessary to remove the pork and to continue simmering the wine sauce until thick. Serve hot.