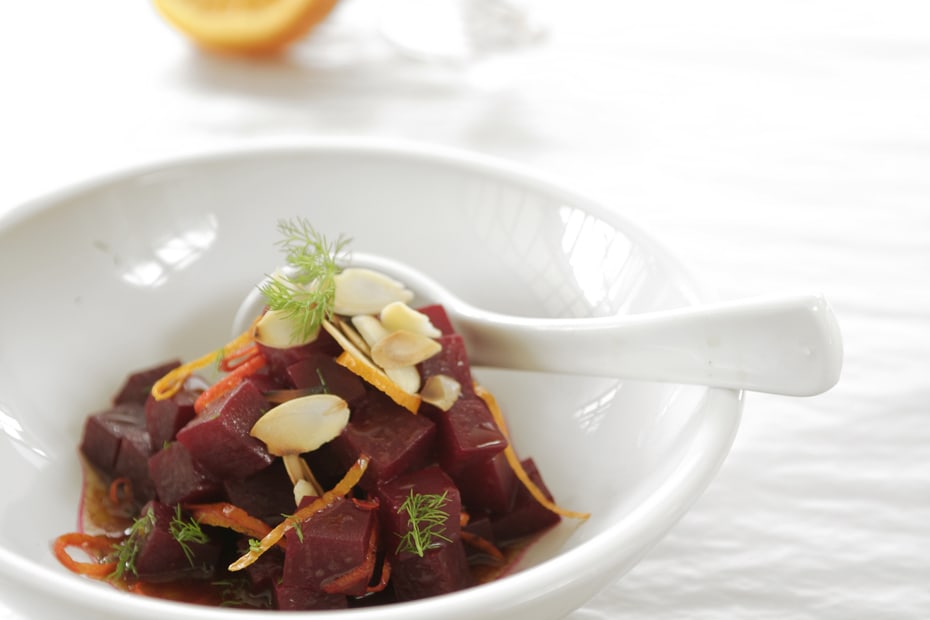 Roasted Beetroot Salad with Orange, Mastiha and Almonds
---
Earthy beets meet a few of Greece's most aromatic condiments in this simple but stunning Greek salad. Orange, almonds, mastiha, great Greek extra virgin olive oil, and a unique honey vinegar make this salad sparkle with flavor!
Instructions
Preheat oven to 375˚F (190˚C).

Cut off the leaves from the beets and leave just a small part of their stems.

Wash, drain and wipe the beets. Rub them with a little olive oil and sea salt, place them on a sheet pan, and bake until wilted and tender, about 1 hour. Alternatively, you can boil them until soft in lightly salted water.

Remove the beets from the oven or pot, and let them cool. Peel the beets and cut them into ½ -inch (1,5-cm) cubes.

Toast the almonds in a dry skillet over low heat for 2 – 3 minutes, stirring or shaking the skillet to keep from burning.

In a stainless steel or other mixing bowl, whisk together the orange juice, zest, mastiha, vinegar, and salt. Whisking all the while, slowly drizzle in the olive oil until the mixture is smooth and emulsified.

Toss the cubed beets with the dressing and nuts. Garnish, if desired with fennel or dill fronds and orange pieces. Serve.