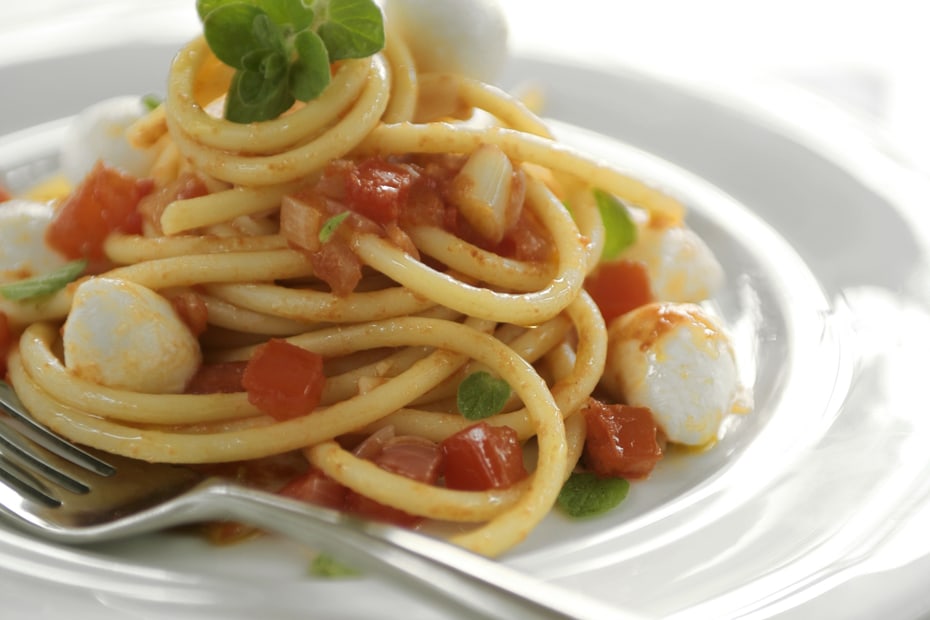 Spaghetti with Fresh Mastiha-Tomato Sauce and Bocconcini
---
This Greek recipe is a decided hybrid and paean to Greco-Italian friendship! Bocconcini meets mastiha in this scrumptious pasta recipe, a perfect example of the delicious Mediterranean Diet in a bowl. Try adding delicious Greek garlic cloves in brine to this, for an intensely fruity garlic flavor that adds depth to the dish.
Ingredients
1/3

cup

extra virgin Greek olive oil

plus 2-3 Tbsp. for tossing the pasta

1

red onion

finely chopped

4

Greek garlic cloves in brine

drained and finely chopped

2 ½

pounds

(1.250 gr.) ripe, fresh plum tomatoes, peeled, seeded, and chopped

1/2

cup

dry white wine

½

teaspoon

Mastiha powder
Greek sea salt

to taste

Freshly ground black or white pepper

to taste

4-6

Tbsp.

fresh oregano leaves

1

pound

(1/2 kilo) Spaghetti, cooked to al dente in salted water and drained

12

small fresh mozzarella balls

(bocconcini), drained
Instructions
Heat the 1/3 cup of olive oil in a wide, shallow pot and sauté the onions over medium heat until soft. Add the garlic and sauté for a minute to soften. Pour in the tomatoes with all their juices. Bring to a simmer and pour in the wine. Bring back to a simmer, lower heat, and add the Mastiha and salt and pepper to taste. Simmer the sauce for about 20-25 minutes, or until thick. Add the oregano just before removing from heat.

While the sauce is simmering, boil the pasta. Drain and toss with a little olive oil. Toss the hot sauce and bocconcini into the pasta and serve immediately with a little fresh pepper and garnished with fresh oregano.