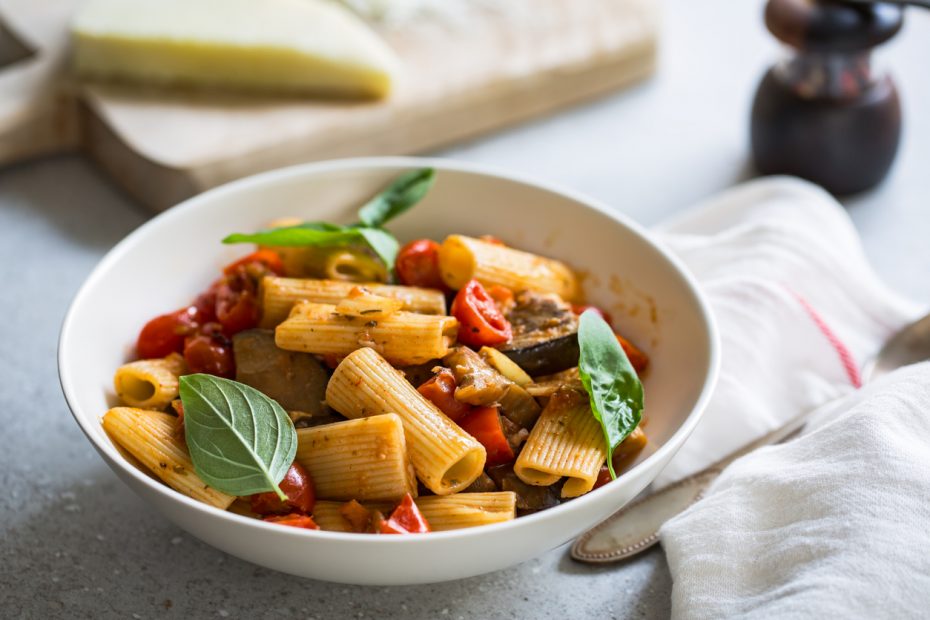 Rigatoni with Kalamata Olives, Capers, Eggplants & Manouri
---
Whether it's a meatless option or just a quick healthy pasta dish you want, this easy, tangy rigatoni dish, with Kalamata olives, capers, garlic, and eggplant, is great. The mild, buttery Greek cheese, manouri, tames the robust flavor of the olives and capers. You can find many of the ingredients in this recipe online in my shop. Best of all: You can serve this as a main course or a warm or room temp pasta salad, too!
Ingredients
1

large eggplant

trimmed and cut into ¾-inch/ 1.5-cm cubes

4

garlic cloves

crushed and minced

2

salted anchovies

optional, mashed with a fork

1

teaspoon

hot pepper flakes or Greek boukovo

2

cups

canned chopped plum tomatoes

1

pound

/ ½ kilo rigatoni or ziti

6

tablespoons

finely chopped parsley

½

cup

Kalamata olives

pitted and chopped

2

tablespoons

capers

rinsed

4

oz.

/ 120 g Greek manouri cheese or ricotta salata

coarsely grated, or
Instructions
Preheat the oven to 350F/170C. Toss the eggplant, salt and 3 tablespoons olive oil together. Place on a sheet pan lined with parchment. Bake for 10 – 15 minutes, turning once with a spatula, until the eggplant cubes are tender and lightly browned. Remove and set aside.

In a heavy skillet, heat two tablespoons of olive oil over medium heat and gently cook the garlic, mashed anchovies and hot pepper flakes for about a minute, stirring. Add the tomatoes and simmer for 15 to 20 minutes, until the sauce thickens. Remove from heat and set aside.

While the sauce is simmering, bring a large pot of water to a rolling boil over high heat. As soon as it comes to a boil, add 1 heaping tablespoon salt. Boil the pasta until al dente. Remove, save 1 cup of the pasta water, and drain. Toss with 2 tablespoons olive oil.

Finish the sauce: Add the eggplant, olives and capers to the simmering tomato sauce and warm through. Toss the pasta in with the sauce, diluting if necessary with a little of the pasta water. Serve with grated fresh or dried manouri cheese or chopped or drained, chopped or crumbled manouri in olive oil. Drizzle some of the olive oil into the pasta, too, if using.
Love vegetables? Want to learn more great plant-based Mediterranean dishes? Enroll in my online  class "Baked Vegetable Classics!" 
Notes
Note: You can serve this hot, warm or at room temperature.