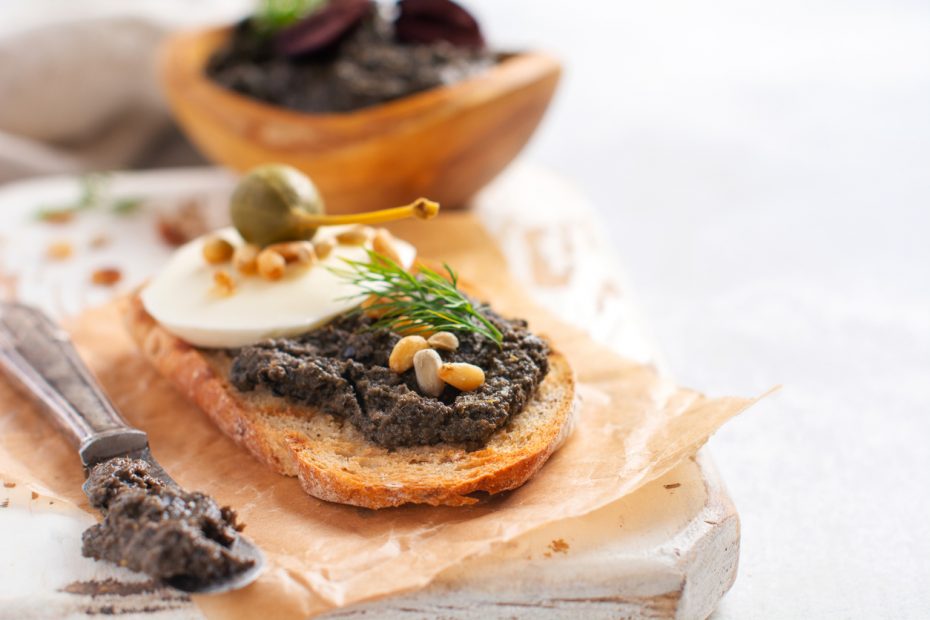 Bruschetta with Tapenade, Capers, Pine Nuts & Mozzarella
---
Tapenade is one of the great spreads of the Mediterranean diet and one of the greatest Mediterranean diet ingredients in its own right. In Greece, we've been making an olive spread like tapenade with Kalamata olives and with green olives for eons, too. The Greek diet is packed with all sorts of great healthy recipes that call for Greek olives and Greek extra virgin olive oil, but it's on the meze table that olives really shine. Enjoy this easy meze and share it with friends for a Mediterranean diet feast!
Ingredients
1

garlic clove

chopped

1 ¾

cups

whole

pitted, rinsed and drained Kalamata olives

3

tablespoons

toasted pine nuts

plus more for garnish

2

anchovy fillets

rinsed

2

tablespoons

Santorini or other Greek capers

or 1 tablespoon Santorini tomato-caper spread

1

teaspoon

chopped fresh thyme

1

teaspoon

chopped fresh rosemary

3

tablespoons

lemon juice

4

tablespoons

extra virgin Greek olive oil

6-8

thick slices of bread

brushed with olive oil and grilled in a grill pan or on a barbecue

6 to 8 ¼-

inch

thick slices of fresh buffalo milk or other fresh mozzarella
Instructions
To make the tapenade, combine the garlic, olives, toasted pine nuts, anchovy fillets, and capers or tomato-caper puree in a food processor and pulse to a thick paste. Add the herbs, lemon juice and olive oil and pulse a few times until a thick paste forms. Set aside until ready to use. You can store this refrigerated in a closed jar topped off with olive oil for a few days.

Brush the bread slices with a little olive oil and grill, either in a grill pan or on the barbecue, turning to get lines on both sides.

Spread a little of the tapenade on one side of each piece of grilled bread. Place a mozzarella slice on top and garnish with a few toasted pine nuts.
Want to learn more easy, healthy Mediterranean diet recipes? Sign up for my online course "Mastering the Mediterranean!"
Want to learn more easy, healthy Mediterranean diet recipes? Sign up for my online course "Mastering the Mediterranean!"