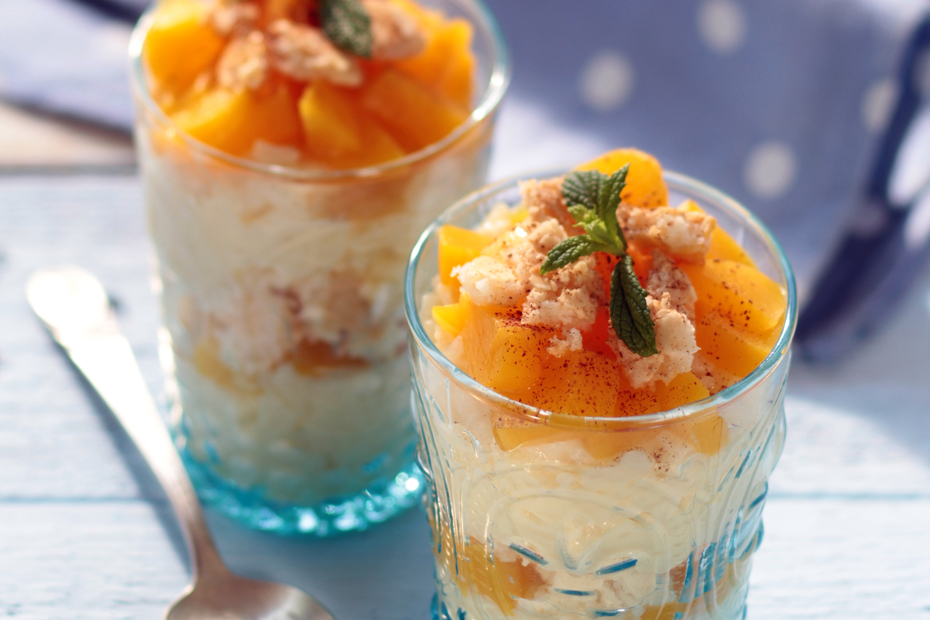 Rice Pudding with Greek Yogurt & Peaches
---
Greek yogurt and peaches combine to make this rice pudding a perfect summer treat. This dessert screams out for Greek herbal tea (hot or on ice) and a swirl of delicious Greek honey. You can find both at my online store
.
Ingredients
3

cups

of water

1

cup

short-grain rice or Greek glacé rice

1

cup

plus 2 tablespoons sugar

2

large eggs

2

large egg yolks

3

tablespoons

cornstarch

2

teaspoons

vanilla extract

2

teaspoons

almond extract

1 1/2

cups

whole milk

1

cup

soumada

Greek almond syrup

1

teaspoon

salt

1/2

cup

heavy cream

1

cup

Greek yogurt

8

Greek almond cookies

amygdalota, amaretti or almond macaroons, crumbled,

3

cups

fresh sliced peaches

3

tablespoons

of Greek honey

Or 3 cups canned Greek peaches

drained

Cinnamon to taste
Instructions
For rice pudding
Bring 3 cups water to boil in heavy medium saucepan. Add rice; reduce heat to medium and simmer uncovered until very tender, about 18 minutes.

Whisk 1/2 cup plus 1 tablespoon sugar, eggs, egg yolks, cornstarch, and vanilla and almond extracts in large bowl to combine. Bring whole milk, soumada, remaining 1/2 cup plus 1 tablespoon sugar, and salt to boil in heavy medium saucepan.

Pour over sugar-egg mixture, whisking constantly. Strain mixture back into saucepan and bring to boil over medium heat. Whisk gently until slightly thickened. Remove from heat. Fold in cooked rice, cream and yogurt. Pour into a bowl and refrigerate, covered, for four hours.
To serve
Fill 8 - 10 wine glasses or other glass cups half way with the rice pudding. Spread some crumbled cookies, peaches and a little cinnamon over that. Fill each of the glasses to the brim with rice pudding and garnish again with peaches, crumbled cookies and cinnamon. Serve.