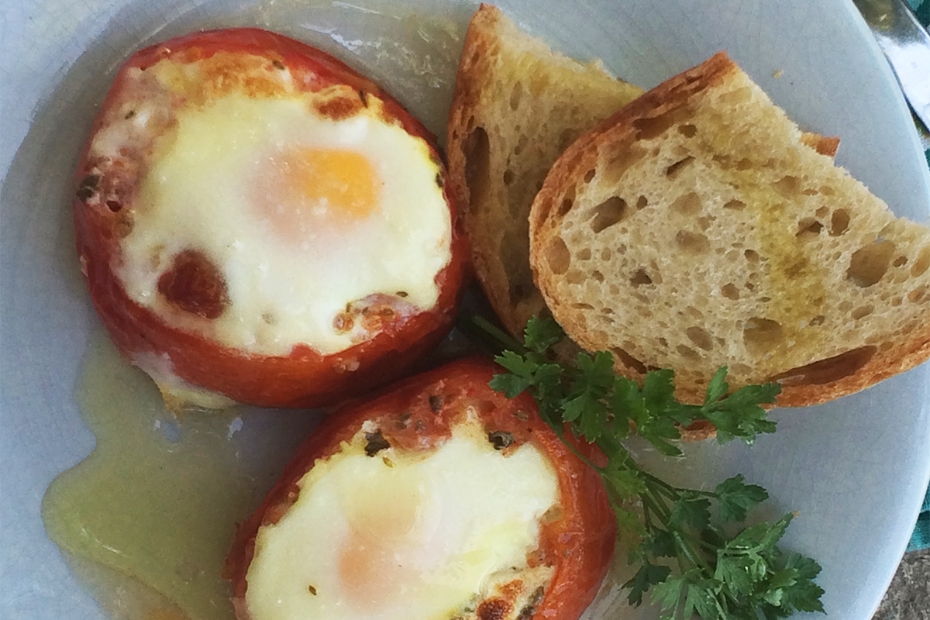 Eggs Baked Inside Tomatoes
---
On a lazy summer day, when the mercury soars and the tomatoes are sweet and ripe, this makes a great, super-easy, fast brunch or quick dinner. To find some of the artisinal Greek products you'll need to make this, visit my online shop
here
, where you'll discover a host of lovingly curated Greek ingredients.
Ingredients
Eggs Baked in Tomatoes

2

tablespoons

Greek extra virgin olive oil

4

medium

ripe firm tomatoes

Salt

pepper to taste

4

teaspoons

crumbled feta or grated parmesan or kefalotyri

4

pinches

of dried wild Greek oregano

4

medium eggs
Instructions
Preheat the oven to 350F. Lightly oil a small ceramic or ovenproof glass baking dish, large enough to hold the tomatoes snugly.

Using a sharp chef's or serrated knife, cut off the crowns of the tomatoes. With a paring knife, carefully cut out the core. Don't puncture the tomatoes. Using a teaspoon, carefully scoop out and discard the tomato pulp.

Sprinkle the inside of each tomato with a bit of salt and pepper, the crumbled feta or grated cheese, and the oregano.

Carefully break each egg, one at a time, into each of the tomatoes, trying not to break the yolk.

Bake the egg-stuffed tomatoes in the center of the oven for about 20 minutes, or until set. Remove, season to taste with additional salt, pepper, or oregano. Serve hot, with good bread and a drizzling of olive oil.
Love vegetables? Want to learn more great plant-based Mediterranean dishes? Enroll in my online  class "Baked Vegetable Classics!"