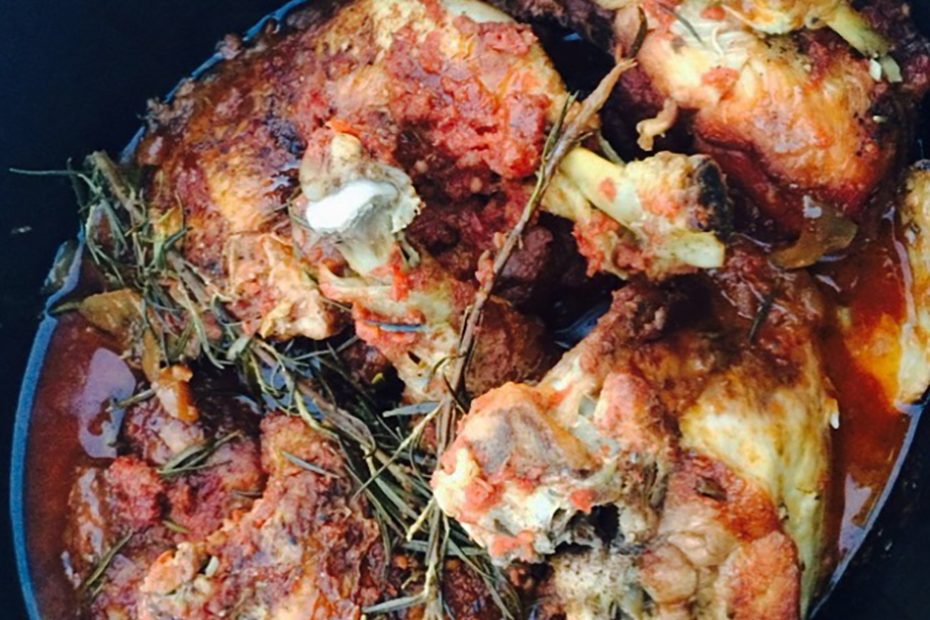 Ikaria Inspired Coq au Vin w Grape Molasses
---
Rooster is much more delicious than chicken, with dark, almost gamy meat and real texture. This dish is called Kokkoras Krasatos in Greek. I add a twist:
a little petimezi, or grape molasses,
which lends an almost smokey depth of flavor to this classic Sunday and festive dish. You can find petimezi as well as a range of other carefully curated Greek artisinal ingredients at my online shop
here
.
Ingredients
Ikarian "Coq au Vin"

1

large rooster

about 5 pounds / 2 ½ kilos,* cut into serving pieces

2

large red onions

halved and sliced

4

garlic cloves

sliced thin or minced

1

cup

dry red wine

preferably Greek island wine made with the Fokiano or Mandilari grape

3

tablespoons

grape molasses

petimezi

2

cups

fresh

homemade tomato sauce or 2 tablespoons tomato paste diluted into 1 cup of water

1

cinnamon stick or 1 scant teaspoon ground cinnamon

1

tablespoon

dried Greek oregano

2

large sprigs rosemary
Instructions
Season the rooster or chicken with salt and pepper.

Heat the olive oil in a Dutch oven over medium-high heat and sear the rooster or chicken in batches, turning to brown on all sides. Remove with kitchen tongs and set aside.

Drain off some of the fat in the pot, leaving about half a cup. Cook the onions in this until wilted and lightly browned. Add the garlic and stir around for a minute or so.

Place the rooster/chicken pieces back in the pot. Pour in the red wine. As soon as it steams up a bit, add the grape molasses, tomato sauce or diluted tomato paste, additional salt and pepper to taste, oregano and rosemary. Cover and simmer over medium-low heat for about 1 ½ hours, or until the meat is very tender. Remove and serve.
Love chicken? Check out my online class "Wing It! – Great Mediterranean Chicken!"
Notes
Chicken will take a little less time that rooster, which has tougher, darker meat.