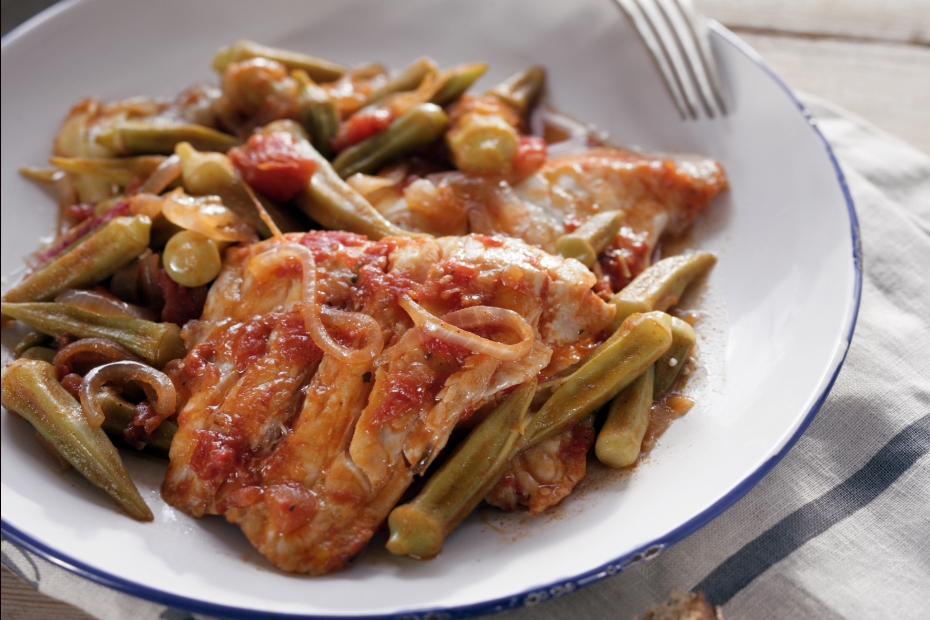 Fish Baked with Okra / Psari me Bamies
---
Okra is a nutritional powerhouse. Traditionally in Greece, okra is braised with onions, garlic, tomatoes and herbs as one of countless main course vegetable dishes. It is also cooked with fish, as in this recipe from Crete.
Ingredients
1 1/2

pounds

fresh okra

1 1/4

cups

red wine vinegar

2-3

pounds

sea bream

sea bass or snapper, gutted and scaled

Strained juice of 1 lemon

Salt

pepper to taste

1/2

cup

olive oil

2

medium onions

quartered and sliced thin

2

cloves

garlic

finely chopped

8-10

plum tomatoes

peeled, cored, and coarsely chopped

1

bunch dill

chopped

1/2

cup

dry white wine
Instructions
1. Trim the okra: remove the tough upper rims and a bit of the stems. Rinse, drain, and marinate in the vinegar for 30 minutes.

2. Season fish inside and out with lemon juice, salt and pepper. Let stand, covered, for one hour.

3. In a large pot, heat the olive oil, and sweat the onions. Add garlic, then okra, stirring gently to combine. Pour in tomatoes and wine. Cover pot and simmer for 35-40 minutes, over medium-low heat, until okra is tender but al dente.

4. In a baking pan large enough to hold the okra and fish, spread half the okra evenly on bottom. Place fish over it, and spread remaining okra around and over fish. bake, covered, until fish is flaky, about 25 minutes. Serve hot.

Variation I: A similar dish, which is another classic summer preparation, may be prepared as a stovetop casserole with salt cod. Soak a two-pound filet of salt cod for 36-48 hours, changing the water frequently. Prepare the okra as above. About 20 minutes before the okra is cooked, add the saltcod and cut up into three inch pieces.
Love vegetables? Want to learn more great plant-based Mediterranean dishes? Enroll in my online  class "Baked Vegetable Classics!" 
Notes
You may also use frozen okra in this dish. Defrost in the refrigerator overnight before using.