Not everyone came along for the hour and a half road trip to Therma, the hot springs on the south side of Ikaria. But those who did raved about it.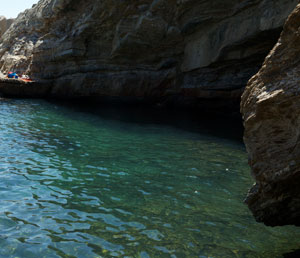 Therma, not too far from the island's airport, is the home of the island's most famous and best-organized mineral springs, known and touted since antiquity, by Hippocrates himself, for their therapeutic value. (There are several other springs, at Aghia Kyriaki and Lefkada, all on the south side of Ikaria.) To take to the baths is often a two-week undertaking, dipping for about twenty minutes each day. But even one experience in the hot mineral waters helps soothe a whole litany of ailments, from skin issues like psoriasis to all sorts of arthritis and rheumatoid problems. There are two springs at Therma, the Apollona and the Cave; the former is pure mineral water, hot and strong and better for serious arthritis and other, related, diseases. The other, inside the cave in a communal jacuzzi and outside, in a natural enclave right on the beach, are "lighter" as the guide mentioned, because both mix with regular sea water. We experienced the hydromassage in the jacuzzi as well as the outdoor spot, swimming to it in an environment that alternated between streams of chilly sea and streams of steamy mineral water. Both were great.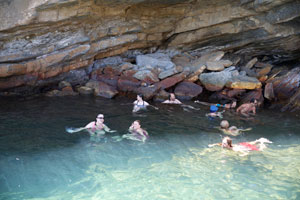 The visit to Therma is one of the highlights of our week together on Ikaria. Stay tuned for a glimpse of other activities, like foraging with Lefteris and cooking with the inimitable Eleni Karimali.