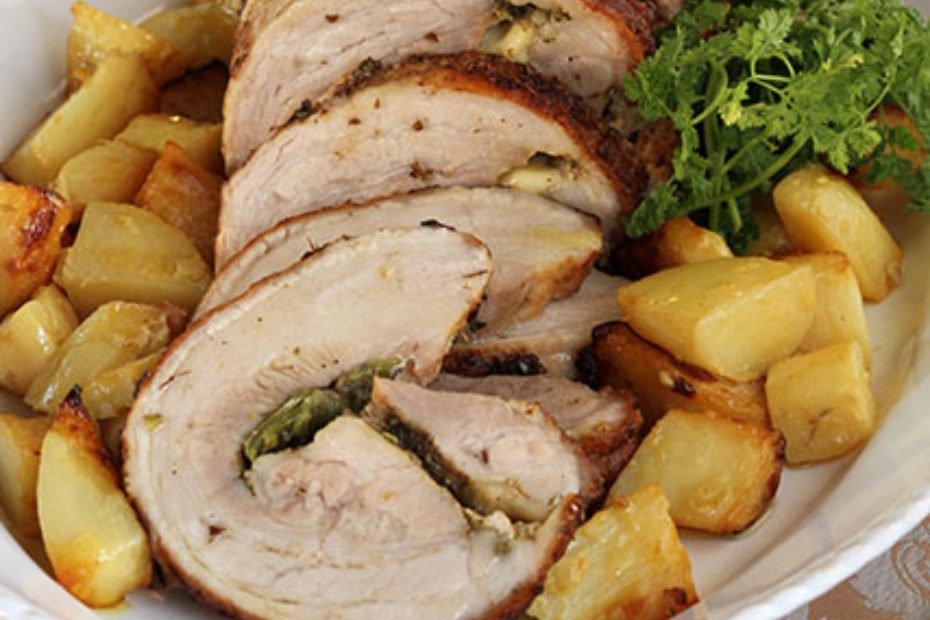 Pork Tenderloin Stuffed with Feta, Peppers and Herbs
---
Pork tenderloin is a showstopper on the holiday table. Enjoy this with one of the wonderful full-bodied Greek reds from Monemvassia. To make amazing Greek roasted potatoes that everyone will love
click here.
To find some of the artisinal Greek products you'll need to make this, visit my online shop
here
, where you'll discover a host of lovingly curated Greek ingredients.
Ingredients
6

tablespoons

Vrisi 36 extra virgin Greek olive oil

1

red onion

finely chopped

2

large green bell peppers

seeded and coarsely chopped

4

garlic cloves

minced

1/3

cup

white wine

1

cup

crumbled Greek feta

1

cup

combined of chopped fresh oregano

rosemary and thyme

3 - 5

tablespoons

plain dried breadcrumbs

1

egg white

slightly beaten

Salt and coarsely ground black pepper

2

tablespoons

Greek mustard with sun-dried tomatoes or other Greek mustard

1 ½

pounds

/ 750 g pork tenderloin

you will need 2

2-3

tablespoons

each of dried Greek oregano and dried

ground rosemary
Instructions
Heat two tablespoons olive oil in a large, nonstick skillet and sauté the onion and peppers until soft. Stir in the garlic. Pour in the wine and when it steams off, remove the mixture from the heat. Cool slightly and mix in the crumbled feta, herbs, breadcrumbs, egg, salt and pepper to taste. Set aside.

Trim any fat from the pork loin. Using a sharp knife, make a lengthwise cut down the center of each loin, cutting to, but not through, the other side. Spread both pieces of meat flat.

Place the first piece between 2 sheets of plastic wrap and pound lightly with the flat side of a meat mallet to about a 13x8-inch/ 33X20-cm rectangle. Repeat with the second tenderloin.

Overlap and pound the pieces to make a single rectangle.) Fold in the narrow ends as necessary to make an even rectangle.

Spread the mustard evenly over tenderloin. Spoon the pepper-feta mixture evenly over pork. Roll tenderloin up jelly-roll style, beginning at narrow end. Tie meat with string, first at center, then at 1-inch intervals. Place meat on rack in a shallow roasting pan. Brush the remaining olive oil over the meat. Sprinkle generously with salt and pepper and rub with dried oregano and rosemary.

Roast, uncovered, in a 375 degree F / 180 C oven for 50 to 60 minutes or until meat is tender and slightly pink (160 degrees F / 71 C) and juices run clear. Transfer to a warm platter. Remove strings; keep warm until serving.

To serve, cut tenderloin into 1-inch / 2.5-cm slices. Serve with my Greek roasted potatoes (see link above).