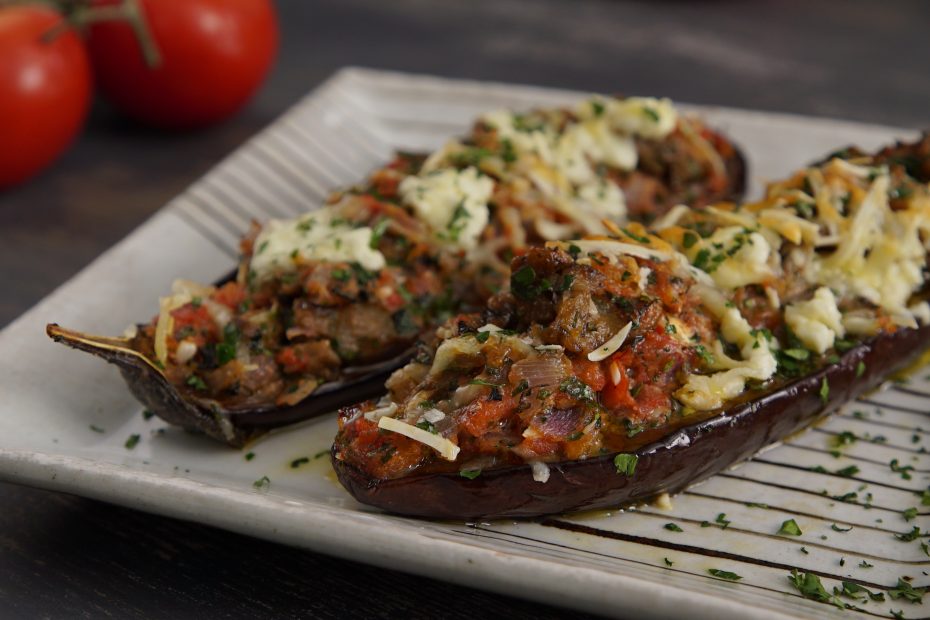 Little Shoes – Eggplant Halves Baked With Three Cheeses And Tomato
---
This wonderful eggplant dish is the regional version of a classic. This rendition comes from Lesvos. It's one of the heartiest and most filling vegetarian dishes in the whole Greek repertoire. To find some of the artisinal Greek products you'll need to make this, visit my online shop
here
, where you'll discover a host of lovingly curated Greek ingredients.
Ingredients
4

medium eggplants

½

cup

extra virgin Greek olive oil

or more, as needed

6

red onions

coarsely chopped

4

garlic cloves

minced

5

fresh tomatoes

chopped

1

cup

chopped fresh mint

1

cup

chopped fresh parsley

Salt

pepper to taste

2

eggs

slightly beaten

2

cups

combined of the following Greek cheeses

1 cup coarsely grated Greek graviera cheese, ½ cup grated kefalotyri cheese, ½ cup crumbled feta

Salt

pepper to taste
Instructions
Preheat the broiler.

Cut the eggplant in half lengthwise, keeping its stem intact.

Using a sharp paring knife, criss-cross and score the flesh side of each eggplant half, careful not to draw the knife completely down to the skin or to puncture the skin in any way. Generously brush the eggplant halves, skin and flesh, with extra virgin Greek olive oil.

Place on a lined cookie tray or shallow pan, skin-side down. Broil 8 inches / 20 cm from heat source for about 5 to 7 minutes, until the skin starts to char lightly, then turn using kitchen tongs to broil on the other side. Remove when the flesh is tender but still al dente, in about 6 to 7 minutes. Pierce the flesh with a fork to gauge its readiness. Remove and set aside to cool. Switch the oven to bake mode and preheat to 350F / 180C.

While the eggplant is roasting, start the onion – tomato mixture. In a deep skillet or wide pot over medium heat, warm 3 tablespoons of olive oil and cook the onions until wilted and just starting to brown, about 10 to 12 minutes. Stir in the garlic. Add the tomatoes and stir to combine. Raise heat to medium-high and cook for about 5 minutes all together, until most of the liquid from the tomatoes cooks off. Set aside to cool.

Using a tablespoon, carefully remove most of the pulp from the eggplant, leaving enough around the perimeter of each eggplant half to keep it firm enough to hold up to the filling. (I usually leave about an eight of an inch.)

Coarsely chop the pulp and mix into the onion-tomato mixture. Mix in half the cheeses and all of the herbs. Season to taste with salt and pepper. Stir in the beaten eggs.

Place the eggplant halves in an oiled ovenproof glass or ceramic baking dish just big enough to hold them snuggly. Spoon equal amounts of the tomato-onion-cheese mixture into the eggplant halves. Bake for 30 minutes, or until the filling is set and the onions soft. Sprinkle remaining cheese mixture over the top of each eggplant half and bake for a few more minutes, until it melts and starts to bubble. Remove, cool slightly and serve.
Love vegetables? Want to learn more great plant-based Mediterranean dishes? Enroll in my online  class "Baked Vegetable Classics!"