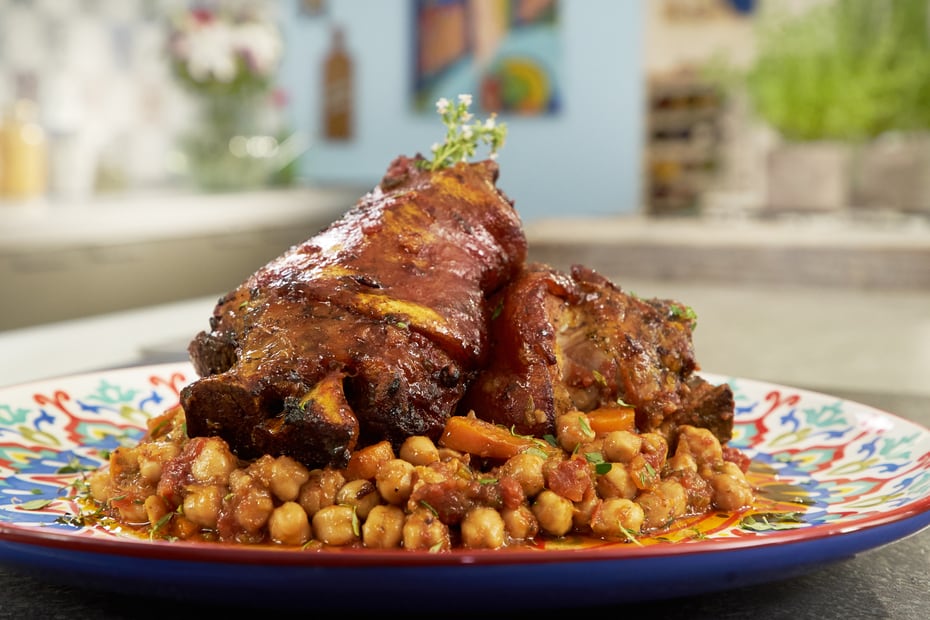 Braised Chickpeas with Spicy, Aromatic Pork Shanks
---
This dish definitely elevates the whole concept of pork and beans! In Greece, hearty stews that combined meat and vegetables or beans, were a way to stretch a meal, providing a little animal protein to every member of the family, for example, while filling bellies on more economical raw ingredients such as chickpeas, an ancient legume in the Eastern Mediterranean. This is a recipe originally from the islands of the Eastern Aegean.
Ingredients
1 1/2

cups

chickpeas

soaked overnight, rinsed and drained, or canned

6

fresh or dried bay leaves

1

whole onion

peeled

6

pork shanks

about 11/4 pound / 600 g each

1

large onion

finely chopped

1

whole carrot

peeled and halved

2

celery stalks

very finely chopped

6

allspice berries

1

cinnamon stick

1

three-inch whole dried chili pepper

optional

4

fresh thyme sprigs

1 1/2

cups

white wine or brandy

2 1/2

cups

chopped canned plum tomatoes

Water or chicken stock

1/2

cup

finely chopped fresh flat-leaf parsley
Instructions
If using dried chickpeas, place them in a large pot with ample water, 2 bay leaves and the whole onion. Bring to a boil over medium-high heat, reduce heat to low, and simmer for about 1 ½ hours, or until about two-thirds cooked. Remove from heat, remove bay leaves and onion and drain.

Preheat the oven to 375F/190C.

In a large frying pan or wide, shallow pot, heat 6 tablespoons of the olive oil and sear the shanks in batches, turning with kitchen tongs to brown well on all sides. Season generously with salt and pepper.

Remove with kitchen tongs and transfer to a large ovenproof clay or enamel casserole dish with a lid.

In the same pan that you seared the shanks in, replenish the oil as needed by adding a couple of tablespoons and heating over medium heat. Add the chopped onion, carrot, and celery. Deglaze with white wine or brandy. Reduce heat to medium, and cook, stirring, until softened, about 15 minutes.

Drain the chickpeas. Place the chickpeas in the casserole all around the shanks and stir in the vegetables. Add the spices, thyme tomatoes, and enough water or stock to barely cover the meat and chickpeas.

Cover and bake all together for about 3 hours, or until the meat is falling of the shanks and the chickpeas are tender. Check the liquid content during cooking. If there is not enough, add some more water or stock; if there is too much, remove the lid or covering about halfway through braising. Season to taste with salt and pepper.

Remove from oven, pour in remaining olive oil and stir gently into the chickpeas. Let rest for 30 minutes and serve, sprinkled with the chopped parsley.