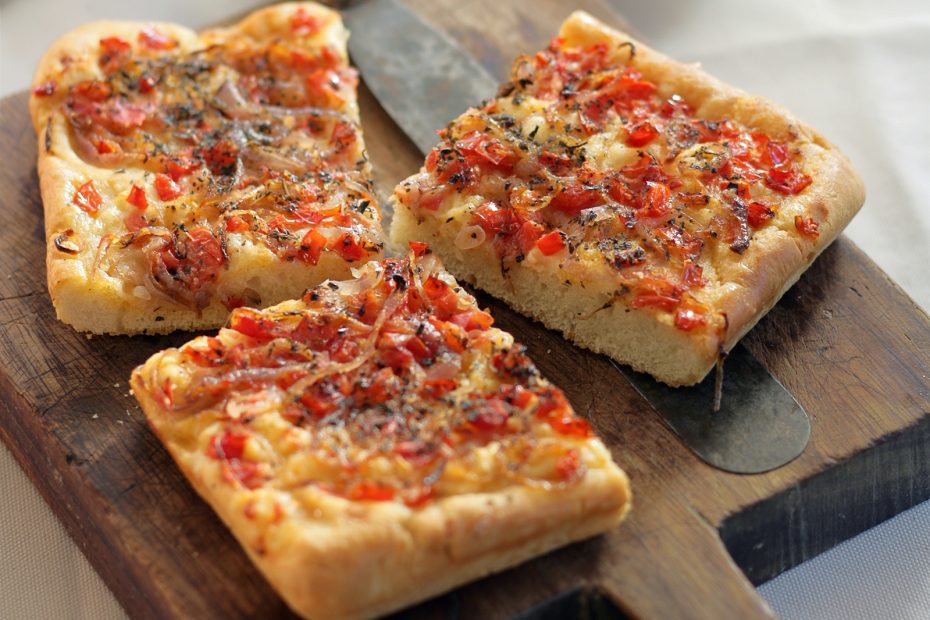 Ladenia: Vegan Pizza-Style Flatbread from the Cyclades
---
These lovely little open-faced tomato and onion pies, called ladenia, are almost like pizza and make for what is arguably the best-known dish on Milos. They are typically made and sold by local bread bakers. Served with a fresh greens salad they make a great light lunch or buffet dish. To find some of the artisinal Greek products you'll need to make this, visit my online shop
here
, where you'll discover a host of lovingly curated Greek ingredients.
Ingredients
1

packed active dry yeast

1 ½

cups

warm water

or more as needed

2

cups

bread flour

2

cups

all-purpose flour

1

tsp.

salt

1

cup

extra virgin olive oil

2

large onions

cut into thin rings

1

large

firm, ripe tomato, cored and diced

2

tsp.

dried oregano
Instructions
Preheat the oven to 160˚C /325˚F.

In a large bowl, dissolve the yeast in the warm water and cover with a kitchen towel. Let stand for 5 minutes or until it starts to bubble. Combine the two flours and salt. Slowly add the flour to the yeast mixture, mixing with a wooden spoon until a dough mass forms. Add a little more water as needed if the mixture is too dense, or, add a little more flour if it is too loose. Knead in the bowl until smooth and pliant and the sides of the bowl come clean. This can also be done in a mixer with a dough hook on medium speed. Cover the bowl with plastic wrap and set aside for 1 hour to rise.

Meanwhile, heat the olive oil in a large skillet over medium heat and cook the onions for about 5 minutes or until they start to soften. Add the chopped tomatoes, raise the heat to medium-high and cook until most of the liquid has cooked off. Remove from the heat.

Oil a large, preferably square or rectangular baking pan. Roll out the dough on a lightly floured surface to the size of the plan and place inside. Cover and let the dough rise for 15 minutes.

Spread the tomato-onion mixture evenly over the dough. Season with salt, pepper and oregano and bake for about 1 hour or until the dough is crisp and the topping is caramelized. Remove, cool slightly and serve.
Love savory pies and phyllo specialties? Sign up for my online class "Fearless Phyllo – Homemade!" to learn the secrets of making great, easy pies at home! 
Love vegetables? Want to learn more great plant-based Mediterranean dishes? Enroll in my online  class "Baked Vegetable Classics!"