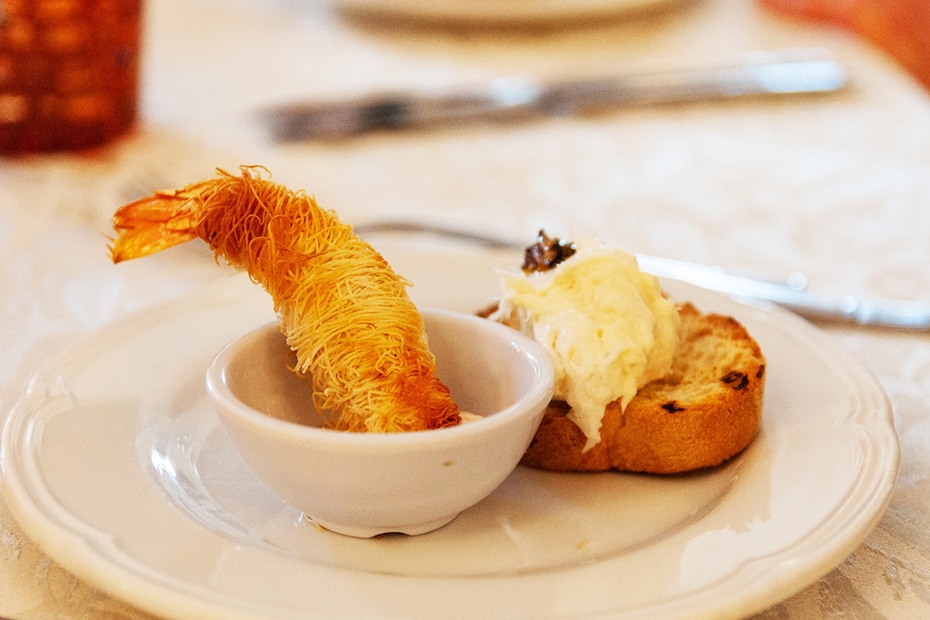 Kataifi Shrimp with Kalamata Olive Mayo
---
This Greek recipe for shrimp wrapped in crunchy kataifi pastry is a sure-fire winner for festive tables and company. I like to pair this perfect Greek meze with my Kalamata Olive – Greek Yogurt Mayo, but you can also serve it with everything from spicy tomato salsa to grecamole and taramosalata. This is Mediterranean Diet indulgence at its finest and great Mediterranean finger food, too!
Ingredients
¼

pound

kataifi dough

defrosted and at room temperature

⅓

cup

shredded fresh basil leaves

(finely shredded)

⅓

cup

chives

(cut in 1-inch lengths)

1

large egg

1

tablespoon

water

All-purpose flour

(for dredging)

16

large shrimp (shelled but with tail shells left on)

and deveined

Freshly ground pepper

Vegetable oil

(for frying)

Greek sea salt to taste
Instructions
Cut the kataifi into 4-inch lengths and place on a large platter. Separate the kataifi strands into individual threads using your fingers. Add the basil and chives and toss the pastry gently to distribute the herbs throughout. Divide the kataifi into 16 equal amounts, straightening out the strands so that you can wrap the shrimp easily.

Whisk the egg with the water in a shallow bowl. Spread the flour in another shallow bowl. Season the shrimp with salt and pepper. Hold the shrimp by the tail and dredge them in the flour, shaking off the excess. Then dip them in the beaten egg and roll in the kataifi, pressing to help it adhere.

Line a baking sheet with paper towels. In a large, deep skillet, heat 1/2 inch of vegetable oil to 350°F. Fry 4 or 5 shrimp at a time until the kataifi is golden brown and crisp, about 1 minute per side, turning carefully with kitchen tongs. Drain the shrimp on the paper towels.. Season with salt. Serve the shrimp with the orange-rosemary sauce.