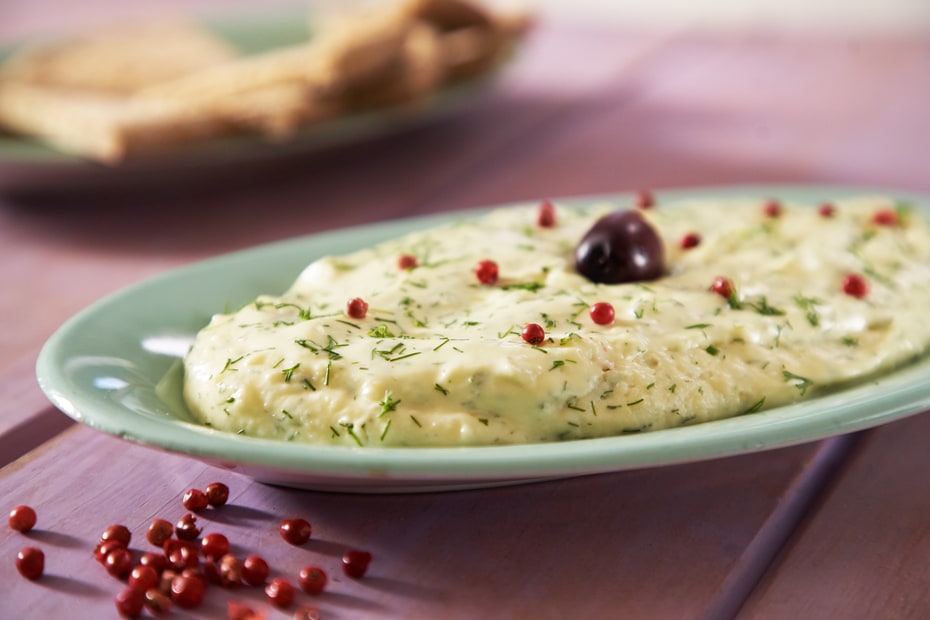 Taramosalata - Fish Roe Spread
---
Taramosalata is the whipped dip with a base of fish roe (tarama) and either potatoes, bread, or a combination of either and nuts. On Ikaria, there is no one specific recipe; most people make the classic stale-bread-tarama version. My husband makes a mean taramosalata, which is exceedingly creamy thanks to the unabashed use of olive oil. He spikes it with refreshing dill and red peppercorns, definitely not traditional but delicious nevertheless. This is his recipe. Note: In the United States, one typically finds pink tarama, which has been dyed in order to make it more attractive to the consumer. In Greece, both the pink and undyed, white, variety are sold.
Ingredients
2

medium potatoes

about half a pound total

2

heaping tablespoons of tarama

fish roe, preferably white*

Juice of 2 lemons

2

cups

extra virgin Greek olive oil

or more if necessary (see note)

½

cup

snipped dill

1

tablespoon

pink peppercorns
Instructions
Peel, wash and cube the potatoes. Bring to a boil in unsalted water and simmer until cooked.

Remove the potatoes from the water with a slotted spoon and transfer immediately to the bowl of a food processor. Reserve the hot boiling liquid.

Add the tarama and lemon juice. Pulse on and off continuously until the mixture is pureed. Then, add ½ a cup of the hot boiling liquid and pulse a few more times.

Then, pulsing all the while, add the olive oil, slowly drizzling it into the mixture, for about 4 minutes total.

If the mixture is loose, add a few more drops of the hot boiling water, and pulse on and off again.
Notes
If the taramosalata is too sour because of the lemon juice, add more olive oil.