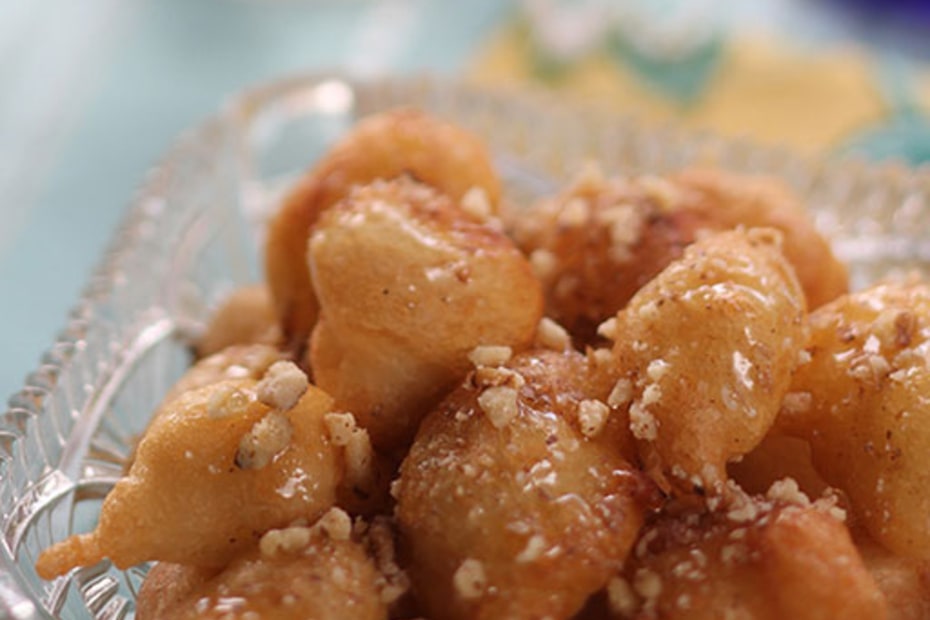 Ikarian Honey Dough Puffs - Loukoumades
---
Loukoumades are essentially Greek doughnuts, with or without a hole. On Ikaria, loukoumades are almost always drizzled with Ikarian pine honey, sprinkled with cinnamon and, of course, served warm. You can also serve them sprinkled with sesame seeds. The secret is not to let the yeasty batter sit too little or too long. The former will make for a puff that's more, well, solid than airy and light, and the latter will make loukoumades that have over-fermented and smell almost of alcohol.
Ingredients
Honey or Sugar syrup
1

cup/240 ml water

2

cups/400 g sugar
Dough Fritters
1

package active dry yeast

3

cups/720 ml warm water

1

cup/240 ml warm milk

2

pinches

salt

2

large eggs

well beaten

Flour as needed

Oil for frying

Canola

corn or seed oil for frying

Cinnamon and/or sesame seeds for sprinkling
Instructions
Make the syrup first : Combine honey, water, and sugar in a large saucepan. Bring to a boil over medium heat, reduce flame and simmer for 10 to 12 minutes until thick.

In a large, preferably ceramic, bowl, dilute the yeast in 1 cup of warm water. Stir and leave until it begins to bubble up. Add the remaining water and milk and stir. Add the salt and eggs and begin adding the flour, stirring with a wooden spoon, until a thick, sticky, yeasty batter forms. Place the batter in a warm draft-free place and let it rise. This will take about 1 hour. Stir it down and mix well.

Heat 3 inches of canola oil in a large deep pot. Carefully drop the loukoumades into the oil, one by one, using two tablespoons to do so. Fry for a few seconds until golden, remove with a slotted spoon, and drain on paper towels. Continue until batter is used up. Replenish oil of necessary.

Using a slotted spoon, dip the loukoumades into the syrup, place on a platter and sprinkle with cinnamon. Serve hot.
Want to learn more about Ikaria Longevity Cooking? Sign up for my online class bundle "Everything Ikaria 101!"