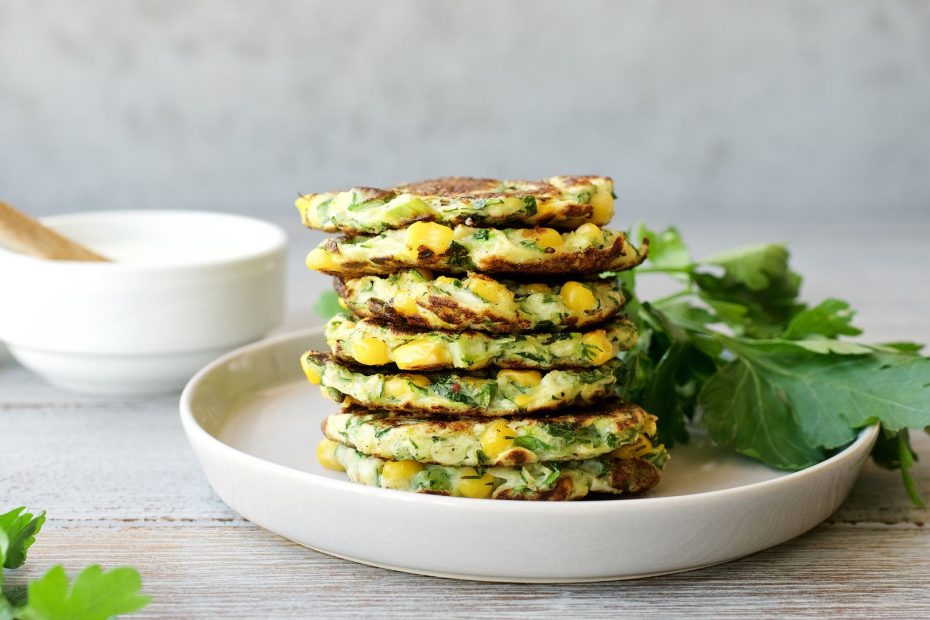 Zucchini Patties with Corn & Herbs
---
The Greek diet is packed with so many healthy, delicious plant-based recipes. These no-fry zucchini fritters or patties are a Greek vegetarian recipe inspired by a dish we make at my cooking school on the Blue Zone Greek island of Ikaria. Indeed, zucchini is an important ingredient int he Ikaria diet as well. These no-fry, oven-baked fritters make a great meze to savor and share with friends, can be served up at any temperature, and are easy to prepare and beautiful to look at. Better yet, they're jam-packed with Mediterranean diet ingredients and are a perfect example of Mediterranean diet vegetarian cooking. Plant-based foods abound in Greece and throughout the Mediterranean.
Ingredients
2

pounds/900 g zucchini

trimmed and coarsely grated 2 teaspoons salt

2/3

cup

crumbled feta

2

large eggs

lightly beaten

5

scallions

whites and tender greens, finely chopped

1

cup

fresh corn kernels,

blanched for 30 seconds and drained

1/4

cup

finely chopped fresh oregano

1/2

cup

finely chopped fresh mint

1/2

cup

finely chopped fresh basil

2/3

cup

cornmeal,

or more as needed

1

cup

cornmeal or flour for dredging,

if desired

Extra virgin Greek olive oil for drizzling
Instructions
Put the grated zucchini in a colander, sprinkle with salt and rub between your palms until wilted, wringing out as much liquid as possible from the vegetable. Next, transfer the zucchini the center of a large piece of cheesecloth or a muslin or light cotton kitchen towel and wring it dry with vigor! You want to get as much of the moisture out as possible.

To make the fritters, transfer the zucchini to a mixing bowl and add the feta, eggs, scallions, corn kernels and herbs. Add the cornmeal, a few tablespoons at a time, until the mixture is dense enough for a patty to hold its shape when formed. Put the mixture in the refrigerator, covered, for 1 hour.

Preheat the oven to 375F / 190 C. Line a shallow baking pan with parchment paper. Take a tablespoon or so at a time of the mixture and shape into patties about 1 1/2 - 2 1/2 inches in diameter, as desired. Make sure the patties are all about the same size so that they bake evenly. If desired (for extra crunch) lightly dredge the patties. Place them on the lined baking sheets, in batches f necessary. Lightly drizzle a little extra virgin Greek olive oil over the surface of the patties. Bake until golden and crisp, about 15 – 20 minutes, turning once.

Serve on their own, hot, warm or at room temperature. They pair really nicely with Greek Yogurt.
Love vegetables? Want to learn more great plant-based Mediterranean dishes? Enroll in my online  class "Baked Vegetable Classics!" 
Notes
The same recipe may be made with grated fresh pumpkin, too.