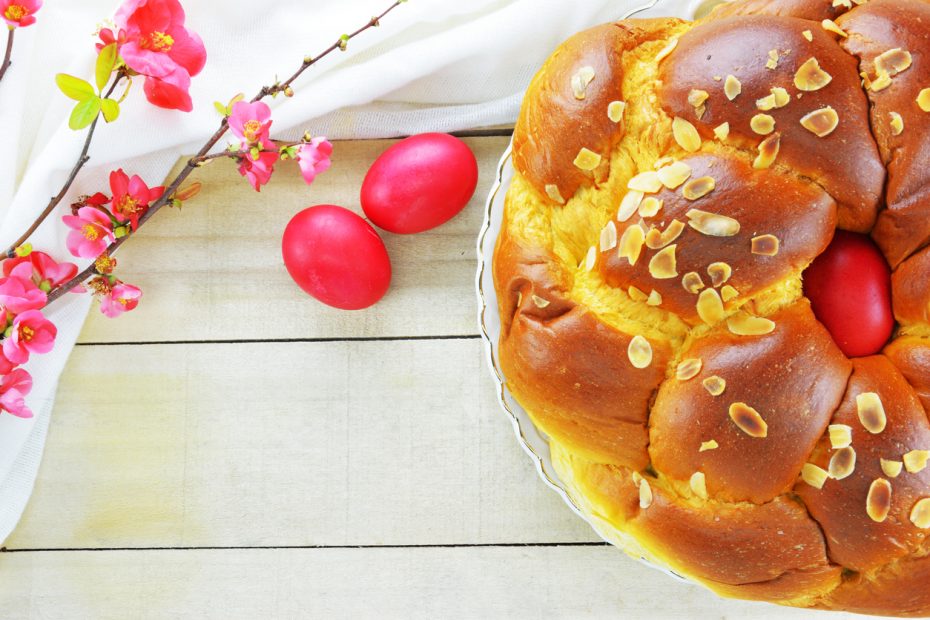 Tsoureki (Greek Easter Bread)
---
At Greek Easter, tsoureki, the plaited egg-laden Easter bread, is a must. It is similar to chalah and brioche, but with its own unique spice profile. Mahlepi, the predominent aroma in this recipe, is the subtle-tasting kernel of a particular type of cherry.
Ingredients
2

cups

plus 2-3 tablespoons, milk

2

envelopes active dry yeast

8-9

cups

bread flour

1 3/4

cups

sugar

1

cup

almonds

very finely chopped

1

teaspoon

salt

Grated rind of one orange

1

teaspoon

finely ground aniseed (optional)

1

teaspoon

mahlepi

1

teaspoon

mastiha crystals

ground to a powder in a mortar with 1 teaspoon sugar

1/4

cup

olive oil or melted butter

5

eggs

very well beaten
Instructions
1. Warm two cups of milk and place in a large bowl. Add the yeast, one cup of the flour, and 1/4 cup of the sugar. Cover and proof for one hour.

2. In a very small pot, bring the mahlepi to a boil in 3 tablespoons water and let it seep for 10 minutes. Drain out the seeds and retain the liquid. Alternatively, crush the seeds in a spice grinder or mortar and pestly. In a large bowl, combine seven cups of flour, the ground almonds, salt, remaining sugar, orange rind, aniseeed (optional), pulverized mastiha and mahlepi water or crushed seeds. Make a well in the center. Add the yeast mixture, melted butter or olive oil, and eggs. Work from the center outwards, stirring the mixture until a dough begins to form.

3. Dust a worksurface with a little of the remaining flour and knead, adding more flour if necessary, until the dough is smooth and doesn;t stick to your hands, about 12 minutes. Place in an oiled bowl, cover with a cloth, and set aside in a warm, draft-free place to rise until doubled in bulk, about two hours.

4. Punch down dough. Divide into six small balls and roll each into strips 12-15 inches long, and abut 2 inches in diameter. Lay three strips side by side, pinching together at one end, and braid. Pinch together at the other end to hold the loaf intact. Press two dyed eggs between the strips of the braid. Repeat the procedure to make the second loaf. Place the breads on a lightly oiled baking sheet, covered, and let rise for two hours, or until doubled in bulk.

5. While the braids are rising, preheat oven to 375 degrees Farenheit (190°C). Beat together the egg yolk and remaining milk. Brush over tsoureki loaves and sprinkle with slivered almonds. Bake for about 40-45 minutes, or until golden brown. The bread should sound hollow when tapped on the bottom. Remove and cool on racks.
Love savory pies and phyllo specialties? Sign up for my online class "Fearless Phyllo – Homemade!" to learn the secrets of making great, easy pies at home!