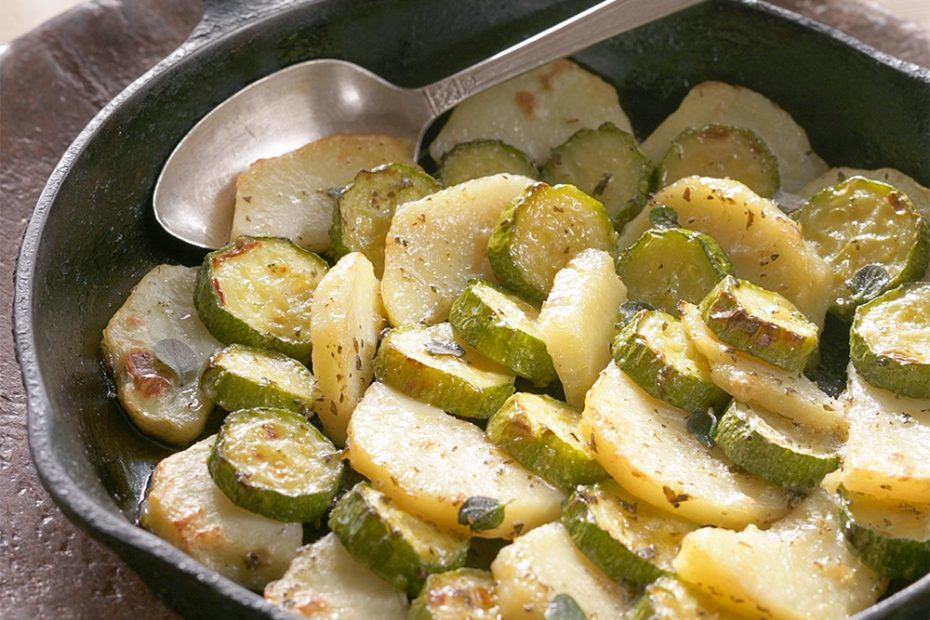 Ikaria Longevity Zucchini Potato Skillet Pie
---
Tourlou is typically a mixed summer vegetable casserole found all over the Eastern Aegean. The word is Turkish (turlu) and means a hodgepodge. There are many similar casseroles around Greece that go by different names. What I like about this old Ikarian recipe is its utter simplicity. It also reminds me of a similar recipe with pumpkin, not zucchini, also made in a frying pan, which is from neighboring Samos.
Ingredients
1

pound

/ ½ kilo potatoes

peeled, cut into ¼-inch /60-mm rounds

1

pound

zucchini

trimmed and cut into rounds as above

Sea salt and pepper to taste

1/3

cup

extra virgin Greek olive oil

plus more for drizzling if desired

2

teaspoons

dried Greek oregano
Instructions
Alternating between each, place the potatoes and zucchini in overlapping circles in a large, wide pot or deep skillet. Season with sea salt and pepper. Add the olive oil and oregano. Cover the pot or frying pan and cook the vegetables until tender and until the bottom of the potatoes and zucchini are slightly charred. Flip over onto a plate, sprinkle with a little more oregano, drizzle, if desired with additional olive oil, and serve.
Love vegetables? Want to learn more great plant-based Mediterranean dishes? Enroll in my online  class "Baked Vegetable Classics!" 
Notes
Adapted from Ikaria: Lessons on Food, Life & Longevity (Rodale)