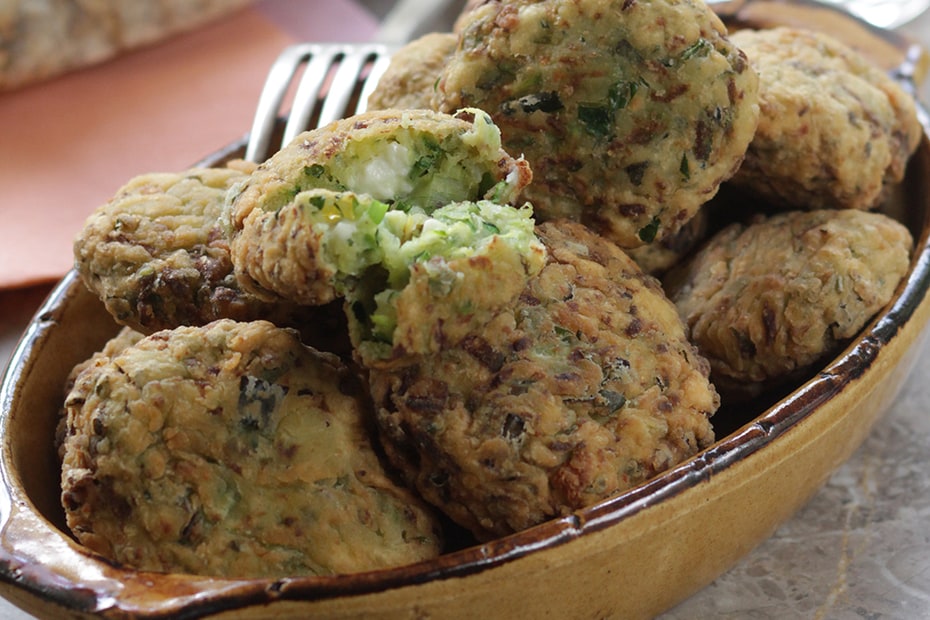 Ikaria Longevity Zucchini Patties, with Greek Oregano & Mint
---
In the summer gardens of Ikaria, the island of longevity, zucchini prevails! This local Ikaria recipe for zucchini fritters is one of the most popular Greek summer recipes on the island. Serve it with Greek yogurt or tzatziki, and sip a little Greek ouzo for pleasure, too!
Ingredients
2

pounds

(900 zucchini

grated

z teaspoons salt

2

large eggs

lightly beaten

8

scallions

white and tender green parts, finely chopped

1

cup

finely chopped fresh mint

½

cup

finely chopped fresh oregano or 2 tablespoons wild Greek dried oregano

1 ½

cups

crumbled Greek feta

1 to 1 1/2

cups

all-purpose flour

plus more for dredging

Olive oil or other oil

for pan frying (optional)
Instructions
Put the grated zucchini in a colander, sprinkle with the salt , and rub between your palms until wilted, wringing out as much liquid as possible from the vegetable. Then, place the zucchini in large handfuls at a time inside a cheesecloth, twisting and wringing to get out as much of the remaining liquid as possible.

Transfer the zucchini to a bowl and add the feta, eggs, scallions, and herbs. Add half the flour and mix gently. Add additional flour a few tablespoons at a time, until the mixture can hold its shape when formed into a ball. The amount of flour may vary depending on the consistency and water content of the zucchini. Season to taste with salt and pepper.

Shape into 1 ½-inch / 4 cm- balls and place on one or more sheet pans lined with parchment paper. Refrigerate for one hour to firm up.

To pan-fry: In a large, heavy skillet, heat 2 inches (5 colive oil over medium heat. Put about a cup flour in a shallow bowl. Dredge the patties lightly in flour, shaking off any excess, and fry a few at a time in the hot oil. Turn carefully with a spatula to fry on both sides. Remove with a slotted spoon and drain on paper towels. Repeat with remaining mixture. Serve hot or at room temperature.

Grated fresh pumpkin or winter squash can be used in place of zucchini.

To Bake: Remove the fritters from the fridge and place, unfloured, in neat rows on a lined baking pan. Bake in a preheated oven at 350 for about 20 – 25 minutes, turning once, until golden on both sides and cooked through.
Want to learn more about Ikaria Longevity Cooking? Sign up for my online class bundle "Everything Ikaria 101!"