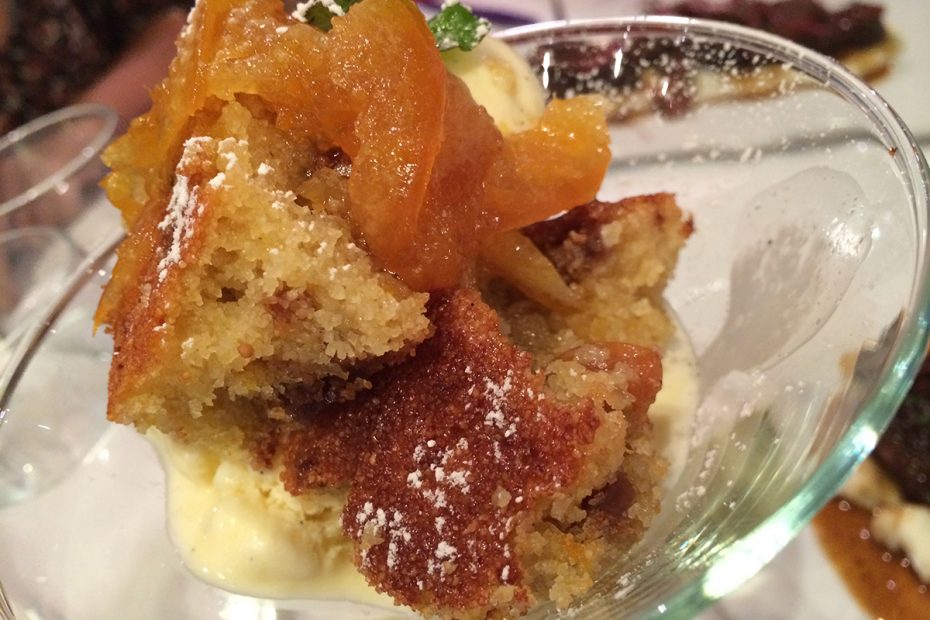 Ikaria Cornmeal Pie with Dried Fruits, Olive Oil, and Greek Yogurt - Bobota
---
I've made this traditional Ikarian dessert in the most elegant restaurant settings in New York City.
Ingredients
Olive oil for greasing the pan

2

cups

coarse cornmeal or polenta

1/4

cup

of sugar

1

tbsp.

baking powder

1/2

tsp.

baking soda

1/2

tsp.

salt

3/4

cup

fresh orange juice

1/2

cup

Greek extra virgin olive oil

1/2

cup

plain Greek yogurt

Grated zest of 1 orange

1/2

cup

raisins

1/2

cup

chopped dried figs

1/2

cup

Greek or Ikarian pine honey

1

cup

hot water

1

strip orange zest

Greek orange spoon sweet and frozen yogurt or vanilla ice cream for serving

Confectioner's sugar for garnish
Instructions
Position a rack int he center of the oven and preheat the oven to 375F / 190 C. Lightly oil an 8 X 8-inch / 20 cm X 20 cm baking dish.

In a medium bowl, combine the cornmeal, sugar, baking powder, baking soda, and salt.

In a large bowl whisk together the orange juice, olive oil, and yogurt.

Slowly add the cornmeal mixture to the orange juice mixture, stirring by hand with a wire whisk until smooth. Using a spatula, mix in the grated zest, raisins, and figs. Pour the batter into the prepared baking dish. Bake in the center of the oven until golden and set, about 40 minutes.

Meanwhile, in a small saucepan, combine the honey, hot water, and orange peel and bring to a boil. Simmer over low heat for about 8 to 10 minutes to make a syrup.

Remove the cake from the oven and prick the surface all over with a toothpick. Pour the hot syrup over the cake. Let it cool. Cut and serve.

Note: to serve more artfully, place a scoop or two of vanilla ice cream or frozen yogurt in a large martini glass or other pretty glass or bowl. Cut the cornmeal cake into rectangular pieces about an inch / 2.5 cm wide and 2-3 inches / 5 - 7 1/2-cm wide. Place two cornmeal cake strips over the ice cream, garnish with Greek orange spoon sweet and sprinkle with a little confectioner's sugar.

Serve.
Notes
Adapted from from Ikaria-Lessons on Food, Life and Longevity from the Greek Island Where People Forget to Die