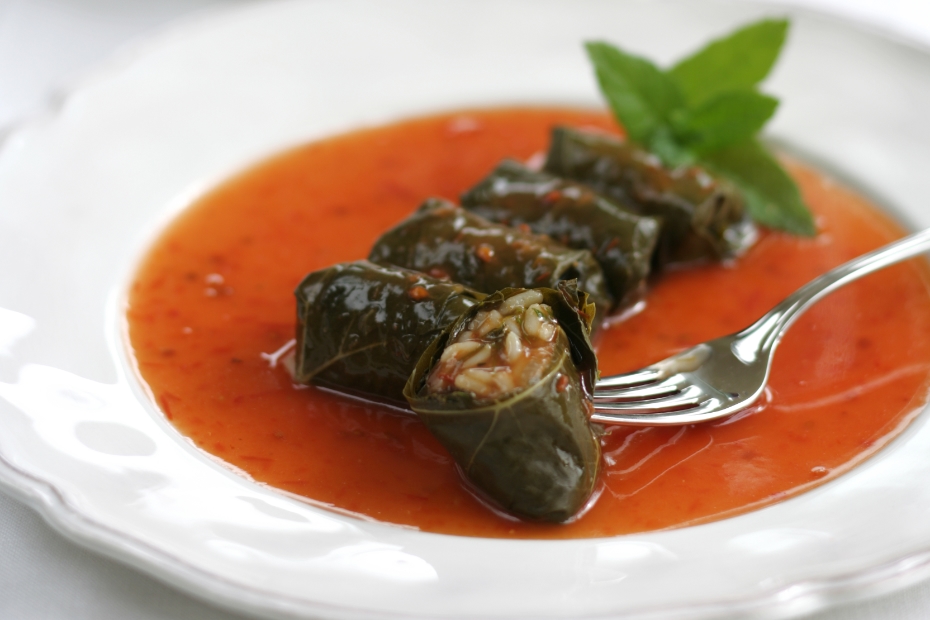 Vegetarian Grape Leaves with Rice & Herbs, in Tomato Sauce
---
Everyone knows dolmades, but most people have tasted them either "yialantzi," with a vegetarian herb, onion and rice filling, served with Greek yogurt, or with ground meat and rice, sometimes served with either egg-lemon sauce, avgolemono, or bechamel. Here is a regional recipe from Halkidiki in Northern Greece, for vegetarian stuffed grape leaves in fresh tomato sauce. I highly recommend you serve this with one of Greece's fine rosé wines. To find some of the artisinal Greek products you'll need to make this, visit my online shop
here
, where you'll discover a host of lovingly curated Greek ingredients.
Ingredients
50 -60

fresh grape leaves

or 500-gr (1-lb.) jar of leaves packed in brine

1/3

cup

plus 2 tbs. extra virgin Greek olive oil

4

large onions

finely chopped

1

cup

finely chopped scallions

1

cup

long-grain rice

2

garlic cloves

finely chopped

1

tsp.

ground cumin

1

tsp.

paprika

1/4

cup

finely chopped fresh fennel leaves

1/2

cup

finely chopped fresh dill

1/2

cup

finely chopped fresh flat-leaf parsley

1/3

cup

finely chopped fresh mint

4

large

firm, ripe tomatoes, grated

Salt and freshly ground black pepper

to taste

4-5

cups

water

Strained fresh juice of 2 lemons

Plain strained Greek yogurt

optional
Instructions
Drain and rinse the brined grape leaves if using, or simply rinse the fresh ones. Bring a large pot of water to a rolling boil and blanch the grape leaves for 2-3 minutes, to soften. Remove with a slotted spoon and rinse immediately under cold water in a colander.

In a large, heavy skillet over medium heat, the one-third cup of olive oil and cook the onions and scallions until soft, about 8-10 minutes, until completely soft. Add the garlic and stir. Add the rice, and toss to coat in the oil. Cook for 3-4 minutes, stirring. Add cumin, paprika, salt, pepper and one cup of water. Cover and simmer until rice is softened but not cooked completely and water absorbed. Remove and cool. Toss in the herbs and adjust seasoning with salt and pepper.

Separate the grape leaves that are too small or too irregular to roll. Pour 2 tablespoons of olive oil on the bottom of a medium-size sauce pan and layer 4-5 of the irregular leaves over the oil.

Lay the leaves vein-side up in rows on a work surface. Snip off the tough stems. Place one teaspoon of the rice mixture in center, bottom of leaf. Fold the left and right sides over the filling and roll up, gently but tightly, from bottom to top, until a bite-sized log is formed. Place seamside down in the pot. Repeat with remaining stuffing and leaves. Pour over with tomatoes, a little salt and pepper, remaining olive oil, lemon juice and enough water to cover the leaves by about 1 1/2 inches into the pot. Place a piece of cut parchment paper over the leaves. Weigh down with a dish. Cover the pot and cook over low heat for about 35 minutes, or until leaves are tender. Serve warm or cold, with strained yogurt on the side, if desired.
Notes
Dolmades may be served hot, warm, at room temperature or cold. If using fresh grape leaves, pick them early, around May in the Mediterranean, and in early June in most other places, when they are tender. You can blanch and freeze them for use all year round.