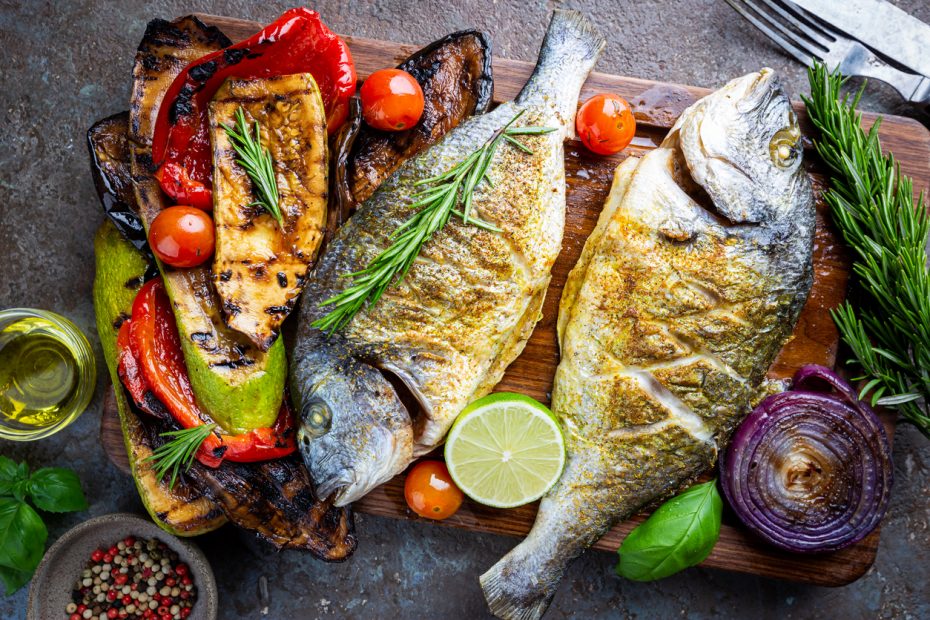 Grilled Whole Fish and Summer Vegetables
---
Grilled whole fish and summer vegetables combines two iconic sets of ingredients in the Greek diet. Grilled whole fish is always a favorite, and regional Mediterranean diet fish such as bream are great on the grill. As for the veggies, almost anything in season will do. Remember to h ave great extra virgin Greek olive oil and herbs on hand, and if you want to give this a little kick, squeeze lime juice, as suggested, into the dressing, instead of the more classic Greek lemon!
Ingredients
For the dressing:

1

Tbsp

mustard

preferably dijon

1

Tbsp

lime juice

2

Tbsp

extra virgin Greek olive oil

For the fish:

2

Mediterranean sea breams or similar fish like dorado,

about 1 1/2 pounds each

2

zucchini sliced

2

red peppers deseeded and cut into 3 pieces

1

large red onion

cut into thick slices

whole peppercorns

3 - 4

rosemary sprigs,

for garnish

1

cup

tear drop tomatoes, halved or quartered,

for garnish

4

basil leaves
Instructions
Prepare the dressing for the fish. Add the mustard, lime juice, and oil to a small bowl, season with salt the peppercorns, and stir well with a wire whisk, until emulsified. Set aside.

Lightly oil the grill rack and heat the grill to medium. Place the fish on one side of the grill. If you have a fish rack with handles to secure the fish and make turning it easy, that would be best. Place the whole fish on one side of the grill. Place the vegetables, one group at a time, in a bowl, and dampen with a little olive oil and salt. Place them on the grill in groups, too, for better control over their cooking time. Brush the veggies and fish with the mustard-lime juice sauce as you grill them, turning, and season with salt and pepper. Grill until everything is done. The fish will take approximately 10 minutes a pound.

Serve the fish and veggies garnished with the rosemary sprigs, lime, tomatoes, and chopped basil leaves.
Want to learn more easy, healthy Mediterranean diet recipes? Sign up for my online course "Mastering the Mediterranean!"
Notes
SIDE DISH RECOMMENDATION
If you're looking for a side dish for this baked fish dish, a boiled potato salad would be lovely. You can dress your potato salad with extra virgin olive oil, lime juice, and mustard and season it with salt and pepper.