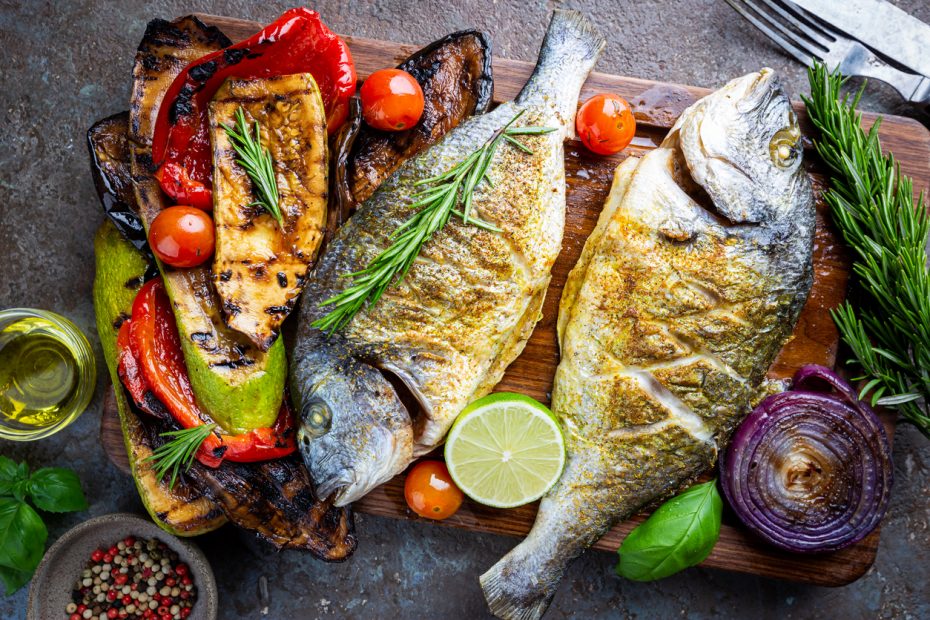 Baked Dorado Or Sea Bream With Grilled Vegetables And Herbs
---
Ingredients
For the dressing:

1

Tbsp

mustard

preferably dijon

1

Tbsp

lime juice

2

Tbsp

extra virgin Greek olive oil

For the fish:

2

sea breams or similar fish like dorado

2 pounds or 1 kilo total

2

zucchini sliced

2

red peppers deseeded and cut into 3 pieces

1

large red onion

cut into thick slices

2

sprigs of rosemary

whole peppercorns

4

basil leaves
Instructions
First, prepare the dressing for the fish. Add the mustard, lime juice, and oil to a small bowl, season with salt the peppercorns, and mix well. Set aside.

Oil the grill, place the fish, zucchini, pepper, and onion, coat all with mustard-lime juice sauce, season with salt and pepper, and grill for about 15 minutes.

Brush the fish and the veggies again with the sauce, using the rosemary as a brush, turn them over, coat with sauce a third time, and grill for 15 minutes more.

Serve the fish and veggies garnished with lime, tiny tomatoes, and chopped basil leaves.
Notes
SIDE DISH RECOMMENDATION
If you're looking for a side dish for this baked fish dish, a boiled potato salad would be lovely. You can dress your potato salad with extra virgin olive oil, lime juice, and mustard and season it with salt and pepper.