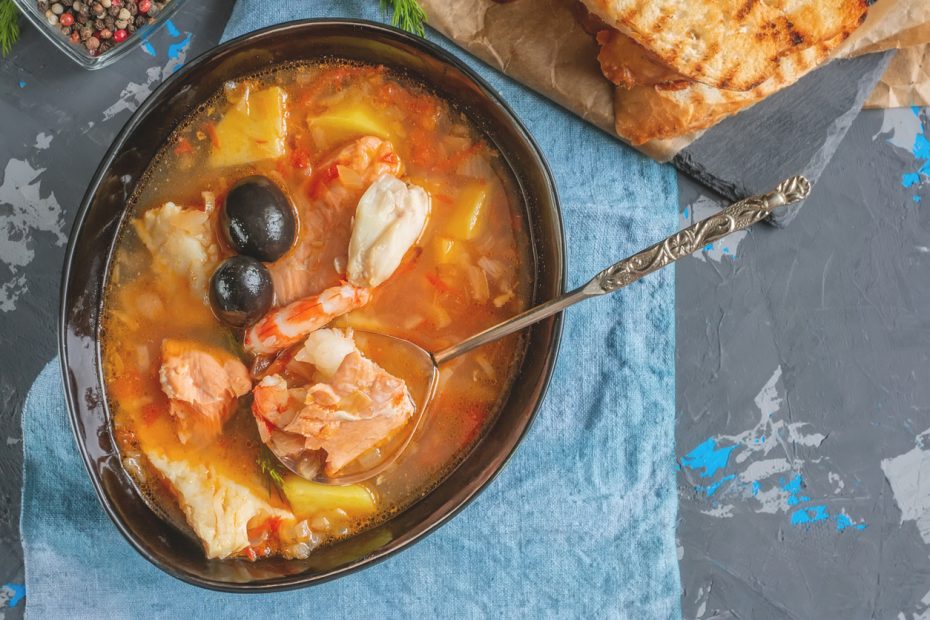 Blue-Zone Bouillabaisse
---
Fish soups abound all over the Mediterranean, and this "Blue-Zone Bouilliabaisse" is my version of the classic Greek fisherman's soup that we make on Ikaria, a Blue Zone, where fish figures prominently in the local diet. I suggest cod and/or salmon because both are easy to find in supermarkets and fish markets alike. The Kalamata olives stirred in at the end add a nice tang.This fish soup can definitely be served up as a main course. Slurp away!
Ingredients
1 1/2

lbs.

fresh cod, or combination of cod and salmon steaks or fillets, and/or other smaller, whole fish, cleaned

(you can get the fishmonger to do this!)

1/2

cup

extra virgin Greek olive oil,

plus more for drizzling

2

large onions,

chopped

2

carrots

pared and coarsely chopped

1

cup

chopped celery,

with leaves

1

tablespoon

tomato paste

2 - 3

large potatoes

peeled and quartered

1

zucchini,

trimmed and cut into cubes

2-3

sprigs fresh oregano

To serve: Greek rusks

called paximadia
Instructions
Season the fish with a little salt and pepper and set aside until ready to use.

Heat 3 tablespoons of the olive oil in a large, wide pot and cook the onions, carrots, and celery over medium heat, covered, until wilted. Season lightly with salt and pepper. Stir in the tomato paste. Add enough water to come about half way up the pot. Add the potatoes, cover the pot and cook for 15 minutes.

Stir in the zucchini and cook for a few minutes, until tender. Add the fish pieces and/or whole fish to the soup, wrapped in cheesecloth, to prevent the bones from falling into the broth as the fish cooks.

Add water if necessary. There should be enough water in the pot to cover the fish. Cover the pot. Bring to a boil, reduce heat to medium-low, and simmer for 15 - 20 minutes, or until the fish are tender and falling off the bone. Remove the fish and set aside, covered, to keep warm. Using an immersion blender, puree about a third of the soup in the pot to create a thick broth. Season with oregano and gently stir in the olives. Heat all together for 2 - 3 minutes.

Adjust the flavor of the soup with additional salt and pepper and stir in the remaining olive oil.

Serve the soup with fish pieces in individual bowls or one large soup tureen. You can add rusks or grilled bread to the soup or to individual bowls if desired. Drizzle with additional olive oil if desired, too!
Want to learn more easy, healthy Mediterranean diet recipes? Sign up for my online course "Mastering the Mediterranean!"
Love soup? Check out my online class "Comfort in a Soup Bowl!" 
Notes
You can make this Blue-Zone Bouillabaisse soup with almost any fish or shellfish. Olive oil is what gives it a satisfying texture.