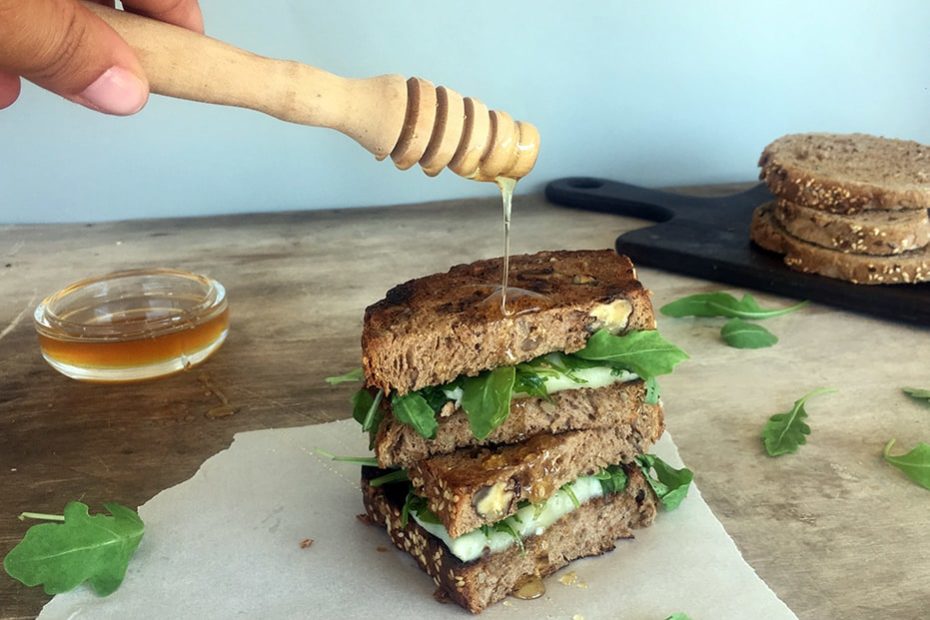 Grilled Cheese with Arugula & Greek Honey
---
Who doesn't love a great grilled cheese sandwich? This Greek recipe is one of my all-time favorite indulgences, a luscious, melting pan-fried sandwich filled with mild Greek cheese and drizzled with amazing Greek honey from the Blue Zone island of Ikaria.
Ingredients
2

slices

good sourdough bread or raisin-walnut bread

or any other good bread, such as olive bread, rye, pumpernickel etc., as desired

2

ounces

Greek kasseri or graviera cheese

cut into thin slices, or any other mild but tangy yellow cheese such as Edam, Swiss Cheese, or Gruyere

1

small handful arugula leaves

about 8 leaves, rinsed and patted dry

1 ½

tablespoons

butter

slightly more if needed

2

teaspoons

Klio Ikaria pine honey
Instructions
Assemble the sandwich by buttering the one side of each slice with about a half tablespoon total of butter then stacking the cheese slices and arugula and patting down to close.

Melt the remaining butter in a nonstick skillet over medium-high heat. Place the sandwich in the frying pan and press down with a spatula. Cover, lower heat and cook on one side. When browned, flip and cook on remaining side, adding an additional dab of butter if necessary. When browned, crisp and golden, remove, cut in half diagonally and drizzle with Greek honey.

Serve!