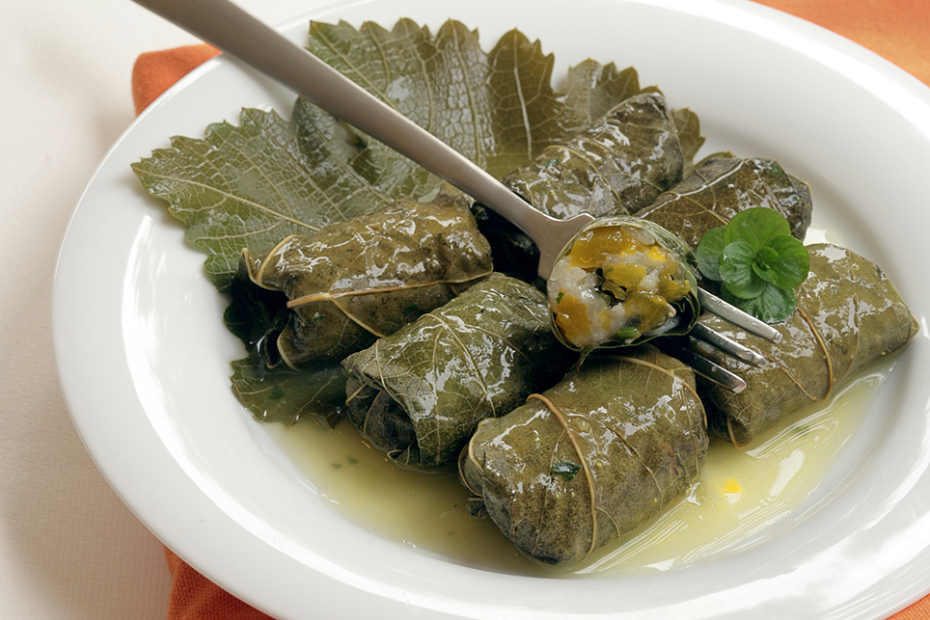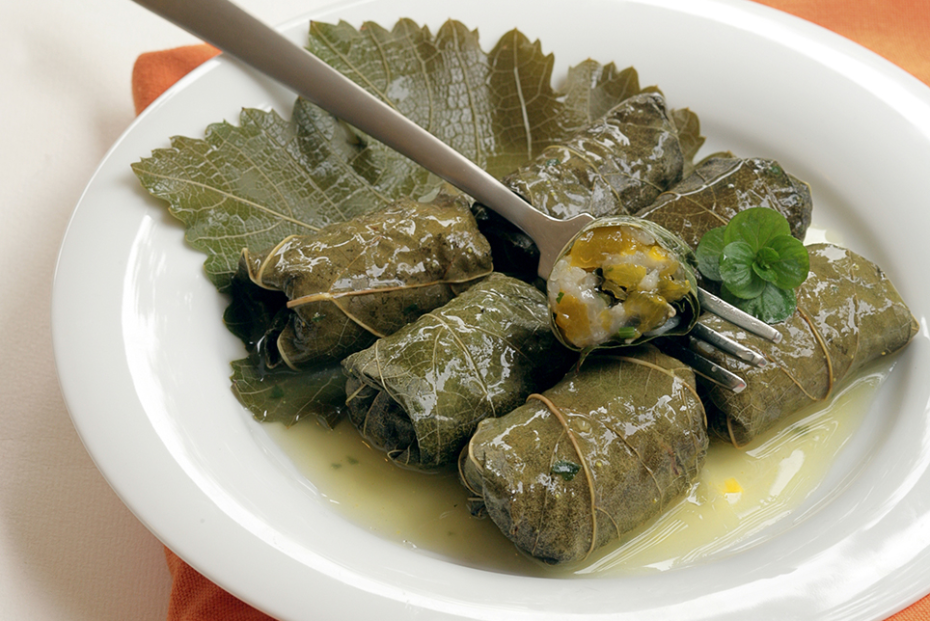 Grape Leaves Stuffed with Pumpkin, Rice and Herbs
---
Here is a regional variation on a Greek classic. This recipe comes from the Aegean islands and is a wonderful addition to holiday and Sunday tables.
Ingredients
One jar of grape leaves in brine

240 g

5

large onions

chopped

1 ¼

pounds

pumpkin

peeled, seeded and diced

2/3

cup

short-grain rice

½

cup

chopped fresh mint

Juice of 2 lemons
Instructions
1. Drain the leaves and rinse well in colander. Bring a large pot of water to a rolling boil and blanch the leaves until soft, 3 – 5 minutes. Drain and rinse in cold water immediately. Snip off the hard stems and set aside the very small or torn leaves.

2. Heat 3-4 tablespoons of the oil in a large, heavy skillet over medium heat and saute the onions, stirring frequently, for 7-8 minutes, or until they are translucent. Add the pumpkin, and cook for 10-15 minutes, until the liquid has evaporated. Add the rice and simmer, stirring , until al dente, 6-7 minutes. Season with salt and pepper, remove from heat and let the mixture cool slightly. Add the mint and parsley and mix with the remaining oil.

3. Arrange the leaves with their vein side up in rows on a large table. Spread the bottom of a large casserole with very small or torn sheets. Place a heaping teaspoon of the filling in the center of each sheet. Roll up the leaves by folding the sides up to form a cylinder. Arrange the rolled leaves seams side down, snugly next to one another. Layer if necessary. Pour in the lemon juice and add enough water to come about ¾ of the way up the dolmades. Cut a piece of wax paper to fit inside the circumference of the pot and place it over the leaves. Place a plate over the paper to hold the dolmades in place. Simmer until the leaves and rice are tender and the pan juices have been absorbed, about 50 minutes. Remove from heat and serve, hot or at room temperature.
Love vegetables? Want to learn more great plant-based Mediterranean dishes? Enroll in my online  class "Baked Vegetable Classics!"