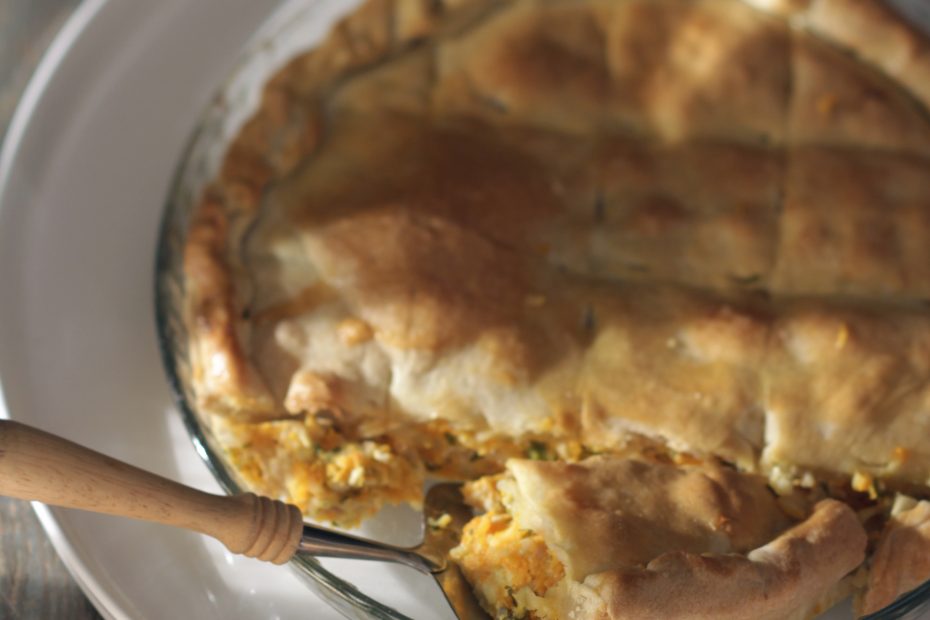 Greek Pumpkin Pie with Phyllo and Honey
---
Pumpkin is used readily in many Greek dishes, sweet and savory. This is one of many different regional pumpkin pies. You can find a rnge of great Greek honey on my online store
here
.
Ingredients
3

cups

grated fresh pumpkin

1 ½

cups

extra-virgin Greek olive oil

180

ml

Greek honey

½

cup

sugar

4

tablespoons

plain bread crumbs

toasted

1

cup

chopped walnuts

2

teaspoons

cinnamon

1

pound

commercial phyllo

defrosted and at room temperature

Olive oil for brushing the phyllo

2

tbsp.

sesame seeds

SYRUP

½

cup

sugar

1

cup

Greek honey

1 ½

cups

water
Instructions
Heat half of the oil in a large pot and add the pumpkin. Saute for a few minutes to cook off liquids and soften. Remove.

Add the honey, sugar, bread crumbs, walnuts and cinnamon and mix well.

Line the bottom of a round baking pan with 9-10 sheets of thin phyllo pastry, brushing each one with oil. The phyllo should extend over the sides of the pan (do not trim).

Spread the pumpkin over the bottom of the pie.

Place another 4-6 phyllo sheets on top, brushing each with oil. Trim the excess, leaving about a inch (2.5 cm) hanging over the edge, and turn in, joining the top and bottom overhanging sheets to form a rim. Brush with olive oil and sprinkle with sesame seeds.

Score through the top layers into squares or diamonds.

Bake at 360F / 180 C for 30 - 40 minutes.

In the meantime, simmer the sugar, honey and water together for the syrup.

Cook for about 10 minutes. Cool thoroughly.

When the pumpkin pie is ready, remove from the oven and pour the hot syrup slowly over the pie. Let it cool and serve.
Notes
If you replace the honey with sugar in the syrup, this pie becomes a vegan pumpkin pie.