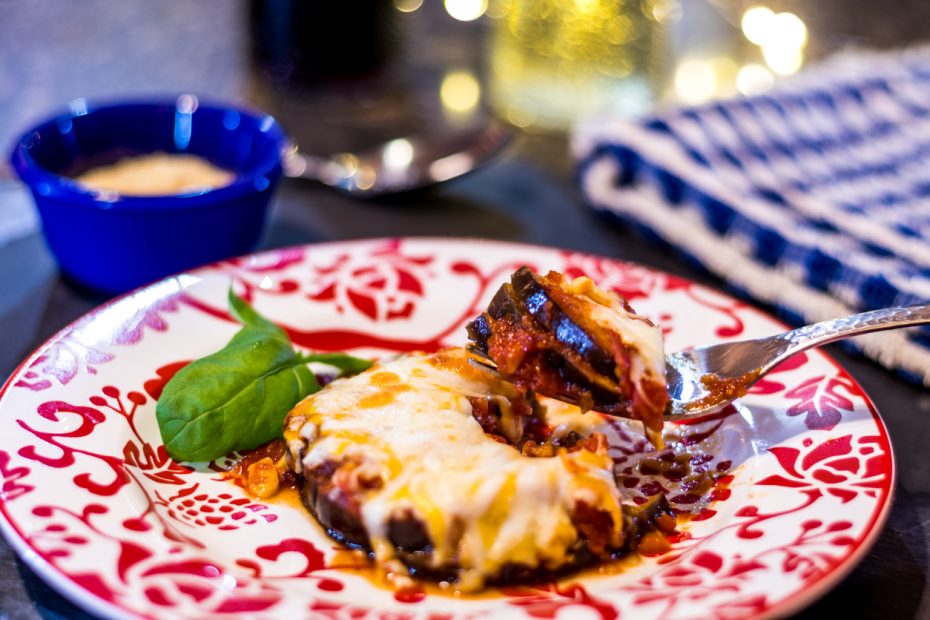 Greek-Style Eggplants Baked with Cheese
---
Greek-style eggplants baked with cheese is by far one of the great dishes of a Greek summer, when eggplants and tomatoes are both at peak ripeness. It's one of the great Greek eggplant recipes, too, something akin, say, to a meatless moussaka! This easy, if somewhat time-consuming, dish is a family favorite. Eggplants baked with cheese is a perfect Mediterranean-diet recipe, too, a filling, Greek plant-based food perfect for a family meal. You need great extra-virgin Greek olive oil and the freshest tomatoes and basil to make it as delicious as it can be. If you want, you can even add a few pinches of dried Greek herbs such as dried Greek oregano or thyme to the sauce.
Ingredients
Extra virgin Greek olive oil as needed

about 2/3 cup

1

large onion

finely chopped

12

large fresh

ripe tomatoes, grated or chopped then pureed in a food processor

6

garlic cloves

minced

2

tablespoons

petimezi

Freshly ground black pepper to taste

1 ½

cups

fresh chopped basil

6

medium eggplants

3

cups

coarsely grated graviera or kefalograviera cheese
Instructions
Preheat the oven to 350F/170C. Line two baking trays with parchment paper and set aside.

Heat ⅓ cup extra virgin Greek olive oil over medium heat in a large, wide pot and cook the onion, stirring, until soft and translucent, about 8 to 10 minutes. Stir in the chopped garlic.

Pour the pureed or grated tomatoes into the pot, bring to a simmer, reduce heat to medium and cook the sauce for an hour, or until thickened. Season with salt and pepper and stir in

the chopped basil a few minutes before removing the sauce from the heat.

While the sauce simmers, prepare the eggplant: Trim the stems and base off the eggplants and cut each eggplant into rounds about a ½ inch thick. Place the eggplant rounds on the baking pans. Brush both sides of the eggplant slices generously with olive oil, sprinkle lightly with a little salt and bake for about 15 minutes, turning once, until the eggplant slices are soft and very lightly browned. Remove and cool.

Lightly oil a 9 X 13-inch ovenproof glass or ceramic baking dish. Strew about a half a ladleful of tomato sauce on the bottom of the baking dish, spreading it evenly over the surface. Place a single layer of the eggplant rounds over the sauce. Ladle another ladleful or so of the sauce over the eggplants and sprinkle with about a third of the cheese. Continue layering eggplant, sauce, and cheese until done, finishing with a layer of sauce and cheese on top.

Bake uncovered for about 35 to 40 minutes or until the cheese is melted and bubbly and the whole layered dish set. Remove, cool slightly and serve.
Want to learn more easy, healthy Mediterranean diet recipes? Sign up for my online course "Mastering the Mediterranean!"